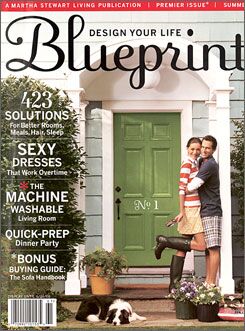 Not content with five titles in her publishing empire, Martha Stewart has a brand new magazine to her credit by the name 'Blueprint'.
The cover tag line: "Design Your Life", suggests the homely nature of the publication.
Blueprint nourishes the idea of 'all things for all people'.
It talks about fashion, jewelry, beauty, home makeovers, furniture, party planning, exercise, medicine, healthful eating, clutter management, scarf-tying, camping gear, how to write nice notes, how to make polite conversation, and more, more, more.
Check out the latest issue, already on stands.