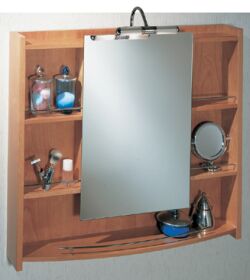 I simply loved this medicine cabinet for the simplicity and high degrees of functionality that it has on offer. The cabinet features a sliding mirror and loads of storage space.
You just have to slide it and you can have some more space behind it. A product of Lacava the cabinet is different from the usual ones and is available in stylish Italian cherry or a teak-like Iroko finish.
Priced at $1,606, this will be an expensive add on to your bathroom…but no doubt it will be a perfect add-on to the convenience levels.
Via: OldHouseWeb