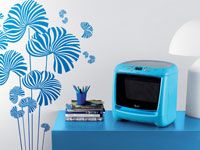 After lending a dash of colors to rest of the home appliances, it was time for the good old microwave to get a sizzling makeover. And the credit of pepping up this one goes to the trusted brand Whirlpool. They have come up with an all new range of colored Microwaves called the Max Microwave. Vibrant hues including classy black, stylish silver, cool baby blue and a chic raspberry red make up this unique collection.
Replacing the geometrical bods with rounded cornered ones, Whirlpool has made them must have home appliance, which is not just good to use but great to use as well.
The top portion carries all the controls and buttons, while a build-in 'crisp plate' saves you from burning your food.
This chic accessory will hit the market in May for a price which is no less hot than this hot appliance – £110
Via: Gadget Candy