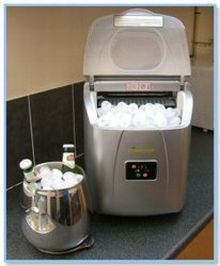 Have you ever faced the problem of ice shortage when you end up receiving more guests than anticipated in a party? I have, and when I came across this wonderful product, I thought of sharing it with the readers. It's a tiny home ice making gadget, which is ideal for the approaching party season. Dubbed as the Mini Contessa, it is a portable beauty, measuring 400 High, 310 Wide and 380 Deep in size.
The size of the ice cubes can be accordingly selected from the 3 available to you and it takes somewhere between 10 to 16 minutes to produce 10 cubes. Isn't this fast work, especially when you have a long queue of friends waiting for the ice to chill their drinks! You are required to fill up the 2 liter water tank and plug it in, as simple as that! The cool thing can store 700 cubes, which are just enough for any party.
So, hurry and get the Contessa before you plan to throw a grand party, by dishing out $367.
Via: Lussorian