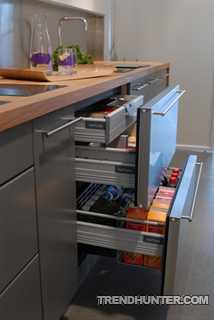 Do you have a small family, and happen to be living in a 'not so large apartment', with a tiny kitchen where your huge fridge manages to take up a huge amount of space? If yes, then Norcool Drawer Fridge is the ideal alternative for you as the sleek metallic refrigerator makes your bulk vanish from sight! It is built right under your counter and has easy pull out drawers so that you can grab an egg or a tomato instead of slogging all the way to where you have planted your oversized refrigerator.
If you have a family consisting of one or two members, it gives you ample space for cooking. On the other hand, if you have a bigger kitchen, you can even keep your old fridge for extra bottles of delectable beer! The bottom line is, keep the drawer device for handy stuff.
Having a decent capacity of 170 ltrs, the refrigerator consists of three drawers, with two outer and one inner drawer. The drawers can be fully pulled out and glide back by self-closing mechanism and is characterized by being shockproof.
Source: Trendhunter