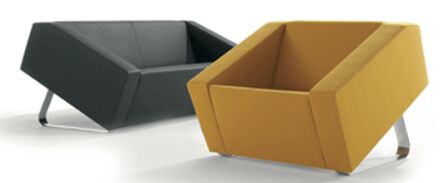 'Obelisk' is a unique sofa in oblique design that's extremely classy apart from being cute with those slanting heights. The sofa sports a geometrical theme that adds into the appeal of this piece of furniture.
The striking angular cuts with a slightly elevated back supported with clean legs made in steel gives it a rather pronounced look that's unique and distinct.
It comes as a seating arrangement that's rich when it comes to comfort levels, space and not to miss the cool look. A creation of designer Ross Didier, Obelisk come is available in a number of enchanting shades that are enough to give an exotic look to your home.