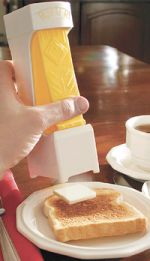 If you are bored off the mess that kids create with that butter dish every morning while having the breakfast toast…then here is this little gadget that is sure to make this work all the more simple and less messy.
We are talking about the One Click Butter Cutter. This is a three in one device that will do storing, slicing and serving in just a few simple steps.
You just have to load the cutter with a stick of butter or margarine and just give it a click and you'll have a slice of butter ready on your slice, isn't cool…all fun no mess!
This one is available for $19.99