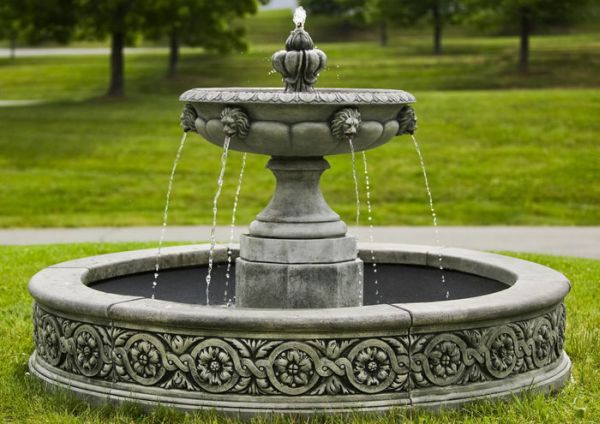 Flowing water has inspired poets, writers, musicians, and almost everyone in the world. There is something magical in the gurgling sound of flowing water. It is pleasing and comforting. It is calming and relaxing. It is almost therapeutic and meditative! This is a luxury that man once enjoyed when he lived in the midst of nature, enjoying its beauty and bounty. Urban life has robbed us of this little pleasure. But still, would it not be wonderful to have your own source of gurgling water in the gardens or patios of your homes?
If this idea inspires you, read on. You can choose from a pick of six fountains that we present to you. It will not surprise us if you choose to pick more than one too!
1. Micro bamboo rocking fountain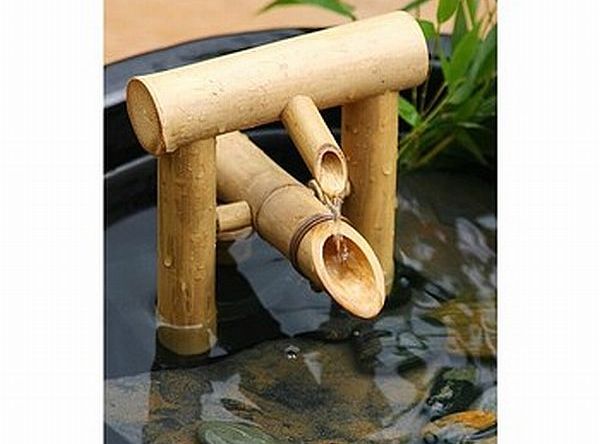 A "shishi odoshi" in Japanese translates into "deer scarer." In a broad sense, it refers to devices made to sound away birds and beasts which cause crop damage. The bamboo rocking fountain has been designed as one such shishi odoshi for your garden. This six inches high micro fountain features a bamboo arm that rocks up and down. It moves down as it fill with water and once it empties itself, it moves up and clacks against the wood there. This was originally meant to scare the deer. Today, you can sit by it with your dear and enjoy the beautiful evening! All you have to do is get the piece (which costs about $60) and place it beside your pond or water tank. Immerse the pump and relax in delight! There are sale offers for as low as $28 doing rounds. Hurry and make the best use of it.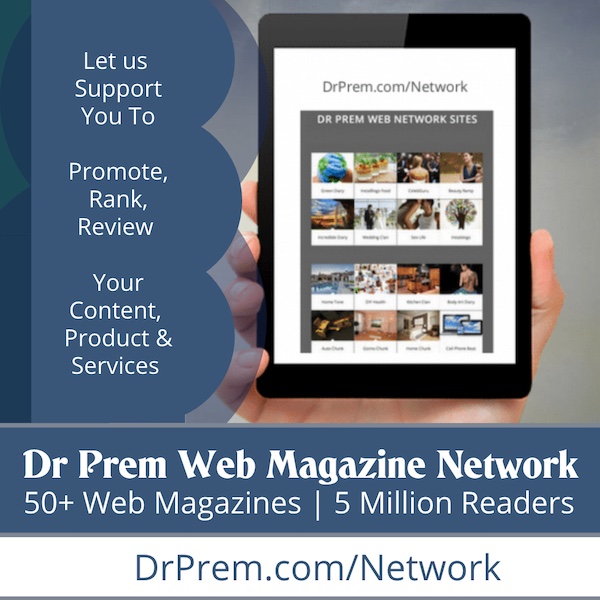 2. Lily floating solar fountain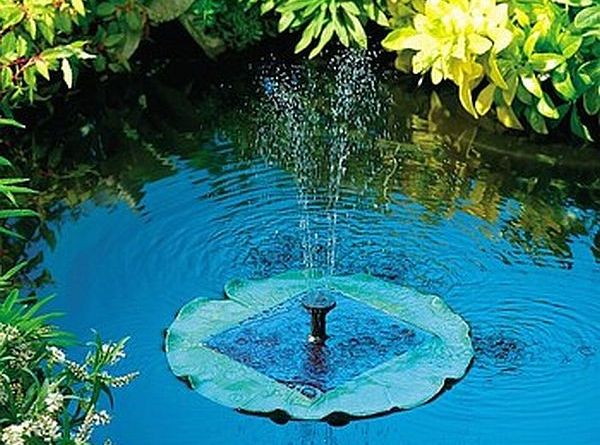 The garden with a permanent lily? Is that not being silly? The answer arrives from the world of modular manufacturing, which presents this fountain that comes decorated with a permanent resin lily! Powered by an integrated solar panel and assisted by proprietary water pump technology, the fountain runs with zero operating costs. The whole fountain comes in modules and can be easily assembled at home. this means that you can now create a water feature almost instantly in your garden, yard or on your patio. All you have to do is to simply place the unit on a water surface. The fountain reaches up to 17 inches in height and the whole unit weighs less than three pounds. With discounts doing rounds, you can get this garden delight for as low as $54.
3. Parisienne one tier fountain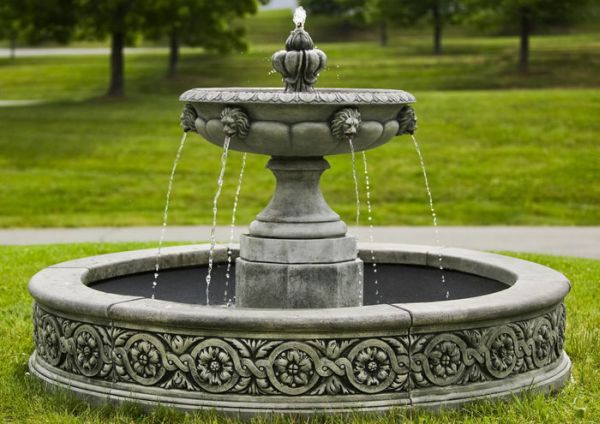 After two micro fountains, we now start talking big! For serious landscapers and garden makers, we present a piece of art that is sure to be a proud adornment, wherever it goes. The Parisienne fountain is little less that five feet tall and it features an elegant flower shaped finial at the top. It combines the dignity of ancient architecture with the installation ease of the modern one. Water then streams out of six artistically carved lion heads into an adorned receptacle. A circular flower and weave pattern runs along the entire face of the receptacle basin. The fountain here is shown in Alpine Stone but is available in many aesthetic variants too. You can pick and choose one that best matches your green landscape. This heavyweight fountain weighs about 2,250 pounds and its pleasing architecture makes it worth every ounce of that weight. This is available only on a 'made to order' basis and costs a little under $3000.
4. Hippo head fountain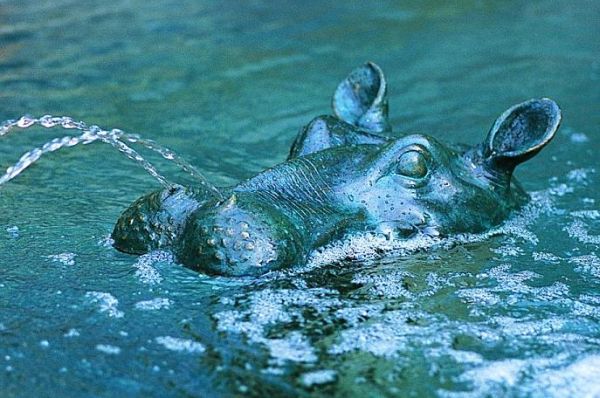 High-quality brass sculptures, that are handcrafted by the "Lost Wax" method, are the members of this class of Hippo Head fountains being offered for $375. They come with great details and easily form the central piece of any pool or pond. The realism of the sculpture can easily pass for the real animal if not for the different color. Copper tubing is cast and embedded inside the sculpture and so, as the submerged pump draws water up, it is squirted out of the hippo's nostrils. Since each piece is individually cast and crafted, no two pieces will be exactly alike and that is another specialty of the hippo fountain – it is unique and there is no second for the sculpture in your garden! The hippo head is about 1.5 feet high and weighs about 10 pounds. If you are living in the United States, the shipping is entirely free.
5. Swan fountain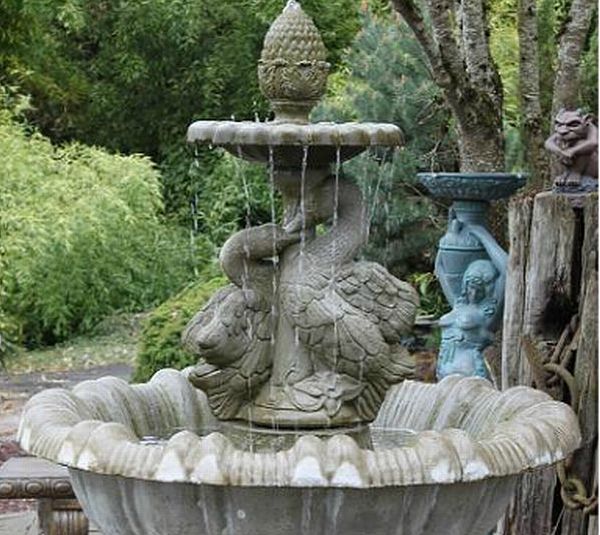 What better birdbath than one that features birds? The swan in mythology represents discrimination and wisdom as it is rumored to have the ability to separate milk from water. Two playful and romantic swans form the centerpiece of this fountain. The apical bud gently bubbles out water which collects in the top flower bowl. From the flower bowl, it flows down along the neat crevices that have been carved, forming a sort of water cage for the swans.This fountain cum birdbath is nearly 6 feet high and 4 feet wide. It will be a beautiful piece of sculpture for any garden setting. Special mention must be made of the fact that with its dull colors, the fountain adds a special 'beauty' effect to gardens with multiple varieties of flowering plants. And on a hot summer afternoon, you can enjoy the birds that are bound to swoop down into the fountain for a refreshing dip.
6. Outdoor water fountain for the garden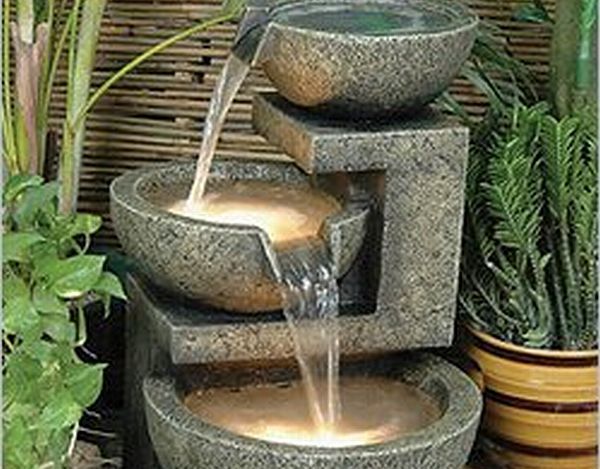 Cymax has flowed into the scenario with an aesthetically designed, light weight resin fountain for your garden. The art of Feng Shui will definitely endorse this fountain as it aligns with the Feng Shui belief that moving water brings good luck! Adding to the charm of this fountain are the lights that emanate from the bowls at different levels. Enjoy a peaceful evening in the garden as the water gurgles and foams down in a gentle stream. Set in a rocky texture, the sight of water oozing out of the bowls is real calming. The utilitarian aspect of this Rocca fountain which is about 3 feet high is the fact that it can be easily washed and cleaned with just soap and water.