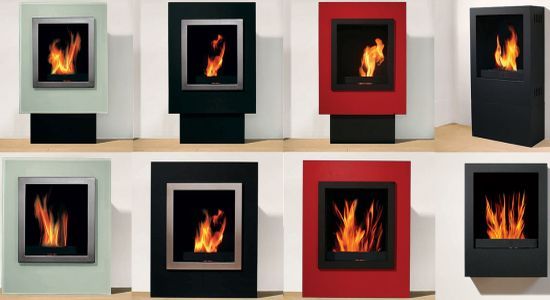 Since forever, everyone wishes for those archaic fireplaces that may make your house look tastefully accessorized, but creates a ruckus with all that wood and coal litter! For those of you who wish to bring the fire home and keep the ashes out, it's time for you to loosen your wallet and give your home the gift of these Plaza Fireplaces straight from Germany. It is the perfect answer if you do not have enough room or enough obsessions for cleanliness to keep a traditional fireplace. It is freestanding, can be put anywhere and also can be mounted on the wall! It is especially designed for indoors and needs no installation and ventilation whatsoever.
The emphasis on cleanliness is apparent when I tell you that it uses smokeless, odorless gel, Jensen RealFlame® wood substitute that is an all natural, jelled alcohol, 100% efficient and ecologically sound. Each can keep you warm for two to three hours and can be reused until empty.
With a range of 8 such burners to choose from, the price is just right for your pocket starting from $1350 and going up to $3200 and more!
The chic factor that it will add to your home interiors can hardly be exaggerated. So, go ahead and do something for your home! It gives you shelter, the least you can do is to keep it warm this winter!
Via: Themagazine