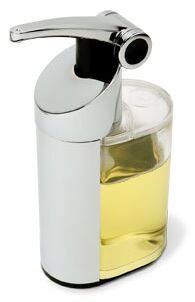 Simple Human has come up with a soap pump that they have named 'precision soap pump'. No second thoughts about the fact that the pump is any way better tan the usual run on the mill stuff, but I couldn't guess the logic behind adding 'Precision' in its name.
It features a funky bod that fitted with a heavy-duty hinge lever pump to facilitate dispensing soap. Refilling the container is easy, thanks to the lid that you can conveniently slide off.
It comes as a chic accessory to add style to your bathing area. Available in two sizes 10 oz. and 20 oz priced at $24.99 and $19.99 respectively.