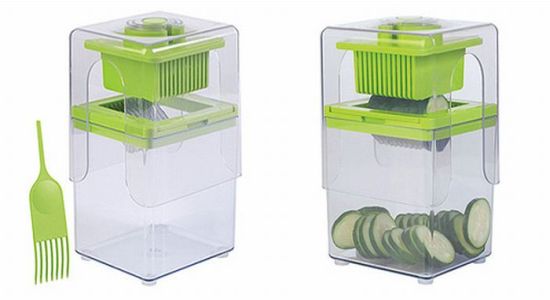 Chopped salad is the latest lunch craze but making it is time consuming. If you're the one who is looking for an ultimate solution to make chopping veggies and fruits for salad a hassle-free task then look no further. The Progressive Tower Slicer is here to make quick work of slicing your fruits and veggies.
What's different? This cute, handy gadget quickly and easily slices fruits and vegetables in one swift motion. Be it tomatoes, onions, cucumbers, potatoes, carrots, lemons, apples or anything, the tower slicer has the knack to chop them in equal pieces. You just gotta place your produce on the blade insert, position the pusher lid over the container and press down firmly and the chopped pieces fall into the container that comes complete with non-skid feet to help avoid messy spills all over. Cool, ain't it?

Price and availability: You can get this cool gadget for $15.39 at Amazon.