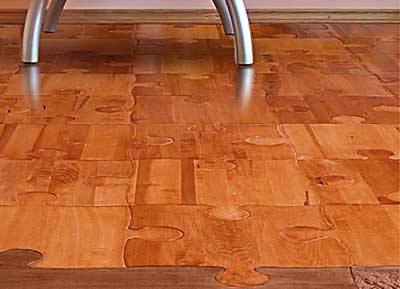 If you love the rich feel of the wood flooring, you'll love the Puzzle Floor all the more, for with this getting that elite look is quite easy. These tiles come as good old jigsaw puzzle pieces in solid hard wood, that you just need to snap together without any glue or nails. Yes, the installation is that easy.
Moreover, the fact that they can be installed on the existing flooring makes these all the more popular. The tiles are available in 12 natural shades to choose from that can be arranged either according to your creative combinations and if not like this, then they offer computer generated floor layouts too.
Only thing that can stop buyers turning to the Puzzle flooring in big numbers is the price tag attached which reads $15 per square foot. Otherwise, this flooring definitely adds a new dimension to the world of hardwood floorings.
Via: Popgadget