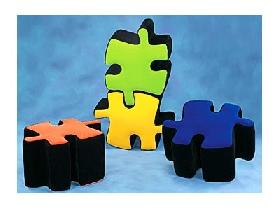 Check out these jig-saw puzzle shaped multi-purpose pieces of furniture called Puzzotto. I couldn't decide if these were meant to sit or to be used as a tabe or a bed so I used the word furniture.
Actually these are multi-purpose so you can use them, as anything. Just join them and they form a table…break them open and you have stools to sit.
What more? You can join them to make beds if you fall short of one some day. The bright flashy colors give them a retro look…these are perfect for your kids room. You can choose your pick from a variety of colors like red, indigo, orange, yellow, green, brown, and black.