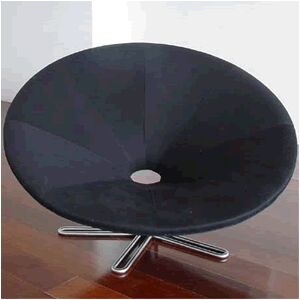 The round seating object on the right is a chair called Redonda, which literally means "Round". Redonda is an easy chair that's designed with an aim to give utmost comfort to the user.
Designers Leonardo Lattavo and Pedro Moog, make the chair especially for you as per your requirements of fabric and color. It looks equally good in leather and cloth over the stainless steel swivel base. I think leather will be a better option as it has high tensile strength which will increase the comfort levels.
Only thing that I couldn't digest about the chair was the heavy price tag attached to it that reads $1925.00 … if you are ready to shell out this much, then Redonda can be a perfect addition to your interiors.