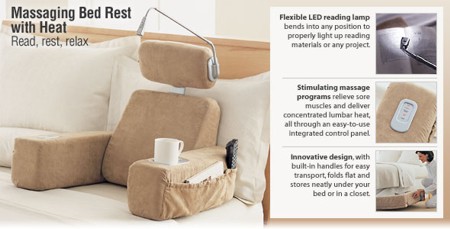 A soothing massage at the end of a hard day is never a bad idea, but the tough part is giving shape to your ideas. Don't worry, and let Brookstone deal with your problem.
The Brookstone Massaging Bedrest Pillow is designed to make your desires come true and gives you total relaxation with its heated massage and concentrated lumbar support.
The bedrest pillow is made of a high-density material covered with a soft layer of visco-elastic foam. It features an adjustable headrest that can be slided or tilted to achieve the maximum comfort. An integrated control panel gives you the liberty to choose the intensity and mode of the massage.
It is also equipped with a flexible LED reading lamp and a mug holder which makes it an ideal reading or TV pillow. When not in use, the pillow folds flat for easy storage.
This relaxing bedrest pillow can be yours for $125.