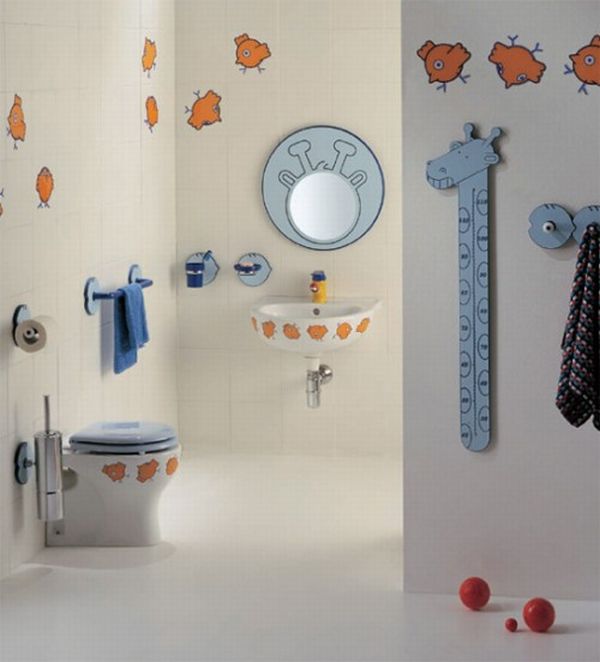 The project: Bathrooms are often the ignored space while designing the bedrooms for children. But providing a designer bathroom to your little ones along with bedroom is an exciting thing for them. Their own space makes them feel special. The small area around your child's room can be changed into a designer bathroom with little planning and designing. Kids are normally attracted to bright colors and cartoon themes. Colorful accessories add the required touch to your imaginations. Kid's bathroom gives you an additional storage space. Adult's products can be separated by putting kid's products in their bathrooms.
Instructions: 1. Color Theme There are so many options to chose from. You can select an inspirational theme for child's bathroom to gel well with the child's room. Same color and pattern as of bedroom will give it an ultimate look. You can go for bright colors with all white bathroom suites. Cartoon themes are all time favorites of children. The color choice is important. Light color walls can be high lighted with bright colored curtains and accessories.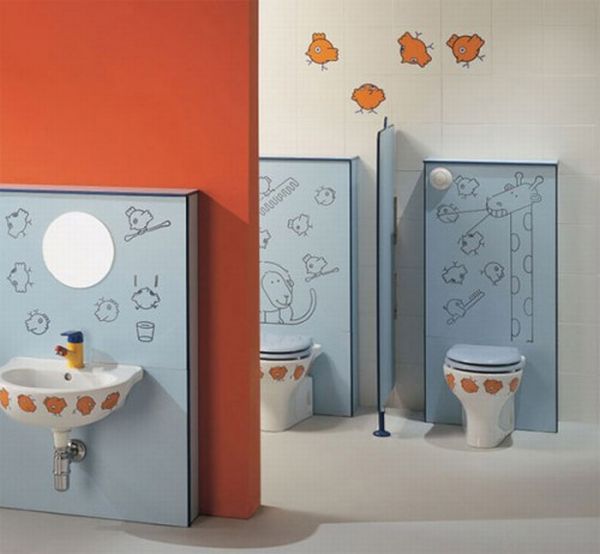 2. Monograms and Labels: Monograms can be made on the bath towels and bathrobes to distinguish the products if you have more than one child. Labeling is another solution to this problem. Beside this separate shelves can be made which allows the children to keep their things in their own shelves. Colorful step stools can be placed on both sides of the basin with each child's thing on it.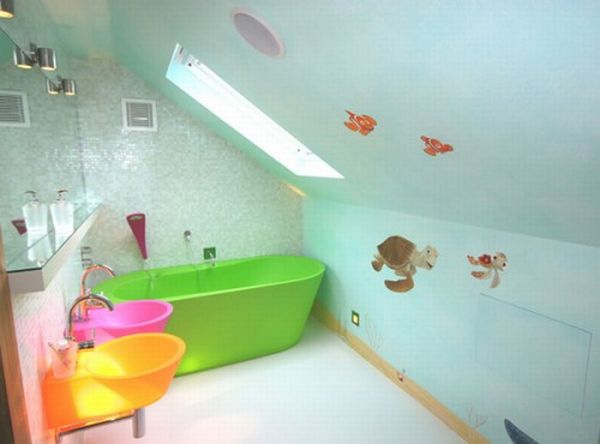 3. Bathroom Safety First: Equipment Safety of your children is the first and foremost thing when designing a bathroom for them. Grab bars should be installed in bath and shower area. If the floor of the tub is not textured then you can always go for tub mats or adhesive pads to avoid slipping while bathing. Use cover clamp for the toilet. Drain covers and faucet covers are also important to safeguard your child from metal edges and hot water. Electric sockets should be covered and out of the reach of children. Glass accessories should be avoided in kid's bathroom.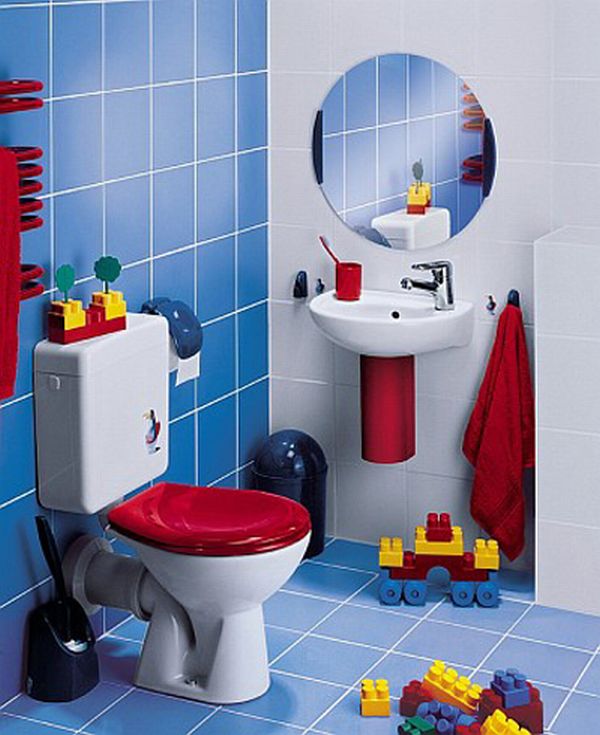 4. Shower Curtains: To give the designer look to your child's bathroom always hang two curtains on one rod to form gentle folds which can hide the toys filled in the bath tub. Curtains are available in so many cool designs. You can even personalize them by putting fabric shower curtains and then painting it with fabric paint. Curtains with cartoons are very popular in children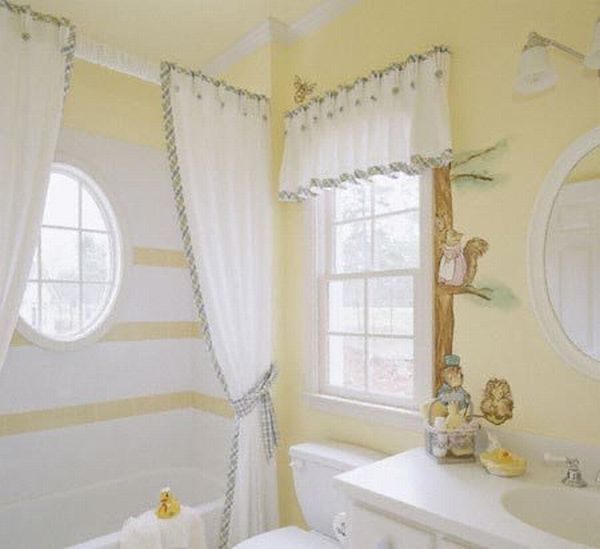 5. Accessorizing the bathroom: Accessories like towels are available in different designs and colors. You can choose the color and design according to your theme. Colorful step stools add the much needed warmth to your bathroom. Storage baskets of different designs can also be used.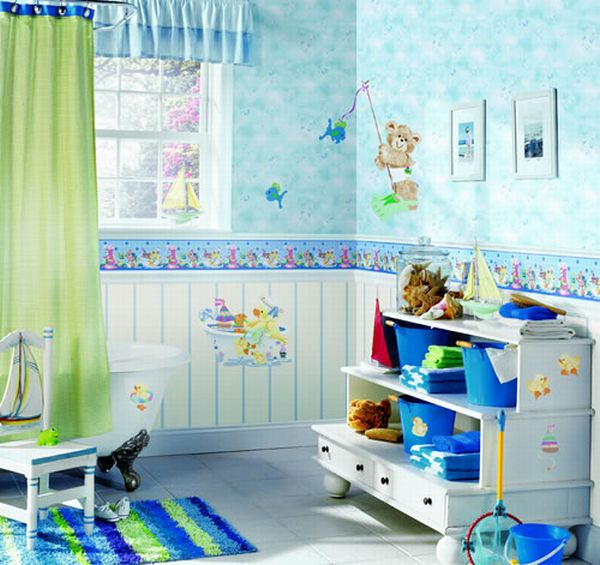 6. Vanities: For an amusing one-of-a-kind touch, replace ordinary vanity door and drawer pulls with ceramic ones that match your color scheme. The ceramic doors can be used in place of vanity doors and drawers to give an exclusive look to your child's bathroom. Provide separate storage for each child is also important.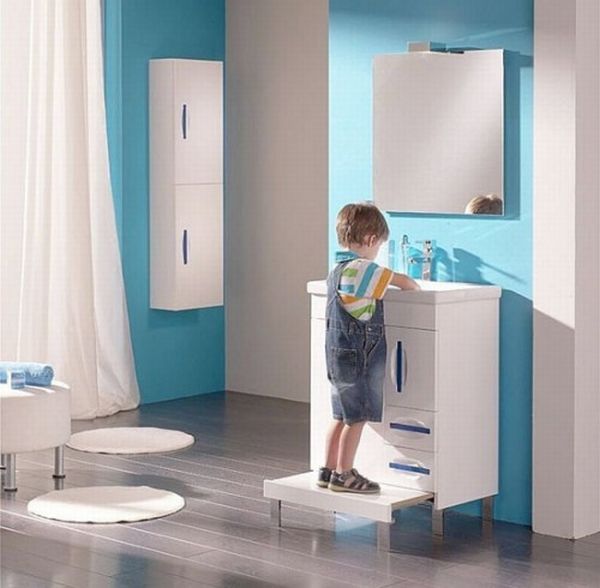 7. Decals You can personalize the glass enclosure like bathtub door and glass shower with glass paints and you can also encourage your child to design it with stickers from their craft kit. Sparkles and glass paints add the glamor to your child's bathroom. This will quench your child's creativity and makes them feel proud for their contribution. If the bath/shower enclosure is glass enclosed, you can pep it up with vinyl window decals in fun designs.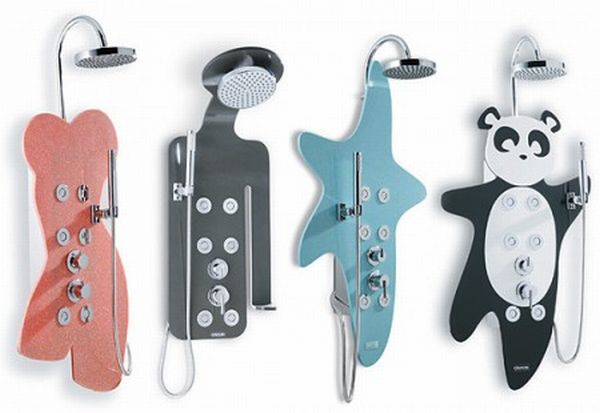 8. Hamper: The hamper is imperative in child's bathroom to keep their clothes off the floor so that washing will become easier and it also keeps the wet towels off the bed.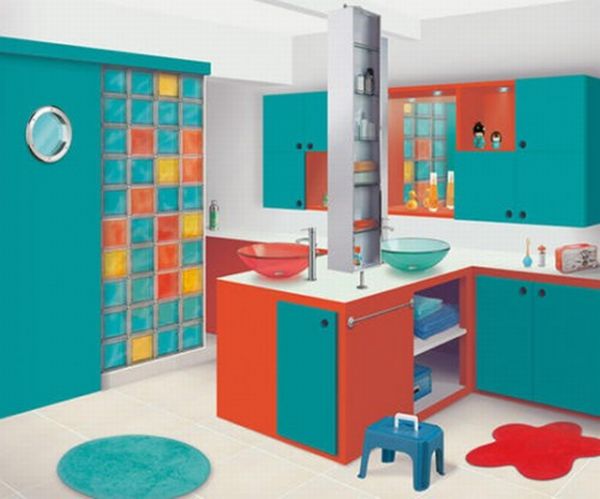 Examples 1. Soccer balls like Orizzonte Latino bathroom sink An Italian company called Meridiana designed the Orizzonte Latino bathroom sink which is like soccer. It is specially designed for your sport star. It is available in various colors like classic black and white, red and green and cool white and blue.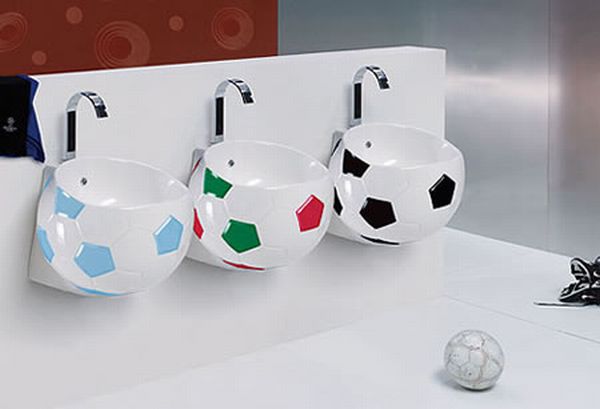 2. New Pink Kids Bathroom from Interbath Interbath's latest bathroom set of pink color is really a super exciting thing for kids. It consist of three things a mirror, a basin and a bathtub. This is showcased in the 26th Kyunghyang Housing Fair 2011 and the name given to it is Putto. The mirror is in the shape of an apple and faucets are animal shaped.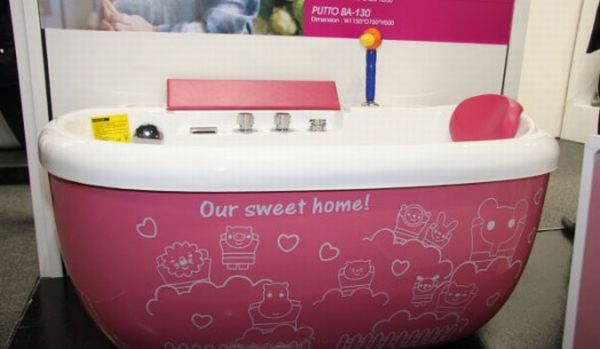 3. Funny Tree Shaped Kids Toothbrush Holder The toothbrush holder in the shape of a tree is really an eye catching thing for your child's bathroom. This holder is made from resin and is shaped like a tree with colorful wide eyed owls. It can hold four toothbrushes at one time. Different owls are of different color making it easier for your child to choose the one of his favorite color to put on his toothbrush.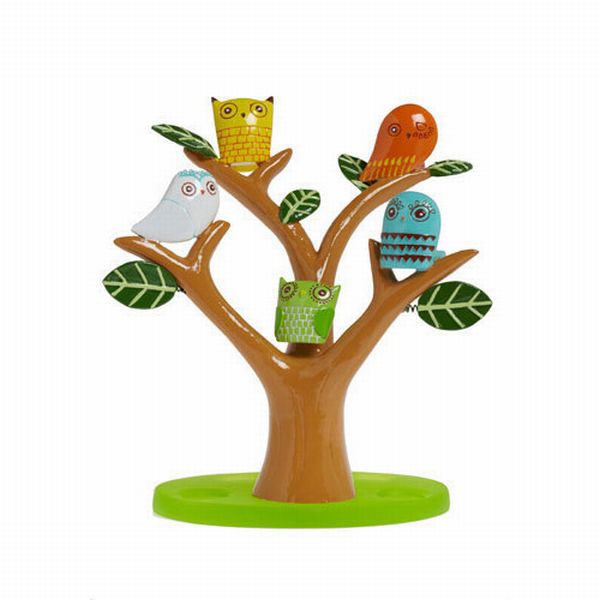 4. The Black Whale Faucet Fountain The black faucet in shape of whale is another exciting thing for your child's bathroom. This will be an ultimate thing for kids when washing their hands or face or while brushing their teeth.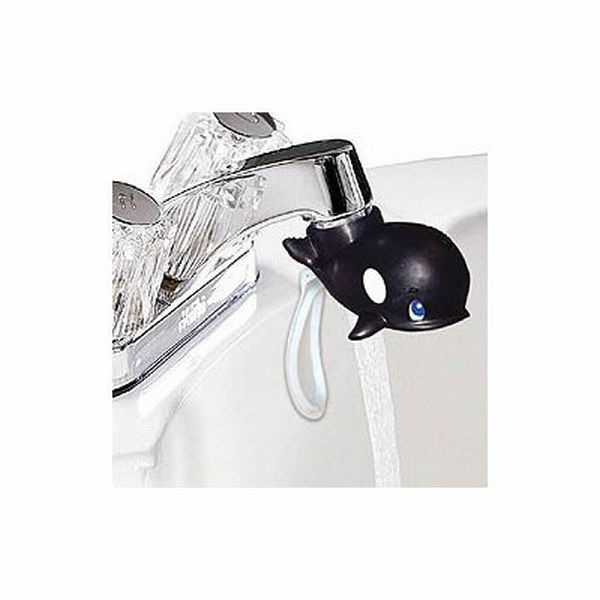 5. Bright Kids Bathroom Furniture by Sanindusa The Portuguese company named Sanindusa comes up with designer furniture called Wckids for your child bathroom. The cabinets are of two colors to provide the fresh look. The furniture comes in bright colors and sanity ware is of good quality. Beside this other accessories like bright color rugs are also there.