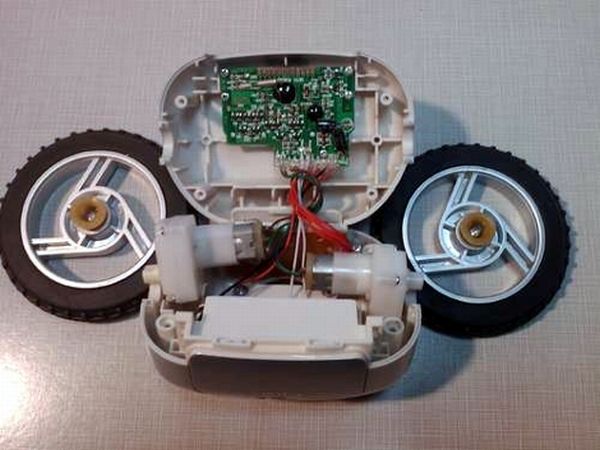 Now this might appear unusual to you all but the parts that lay bare up here in the picture when rolled up ensure to wake you up in the morning. Yeps, it's an alarm clock that becomes a programmable rover. The clock flees when you don't get out of bed.

Crafted by TheRafMan, the alarm clock won't prick your pockets. At $5, it's quite a fair deal to craft an alarm clock which has a usable LCD module and gearhead motors. What made this alarm clock cum rover programmable was the added microcontroller. An Arduino variant called the Ardweeny board that piggy-backs the ATmega328 is fitted well to play nicely with jumper wire. The uC is able to interface with the gearhead motors thanks to an L293D h-bridge motor driver chip. The rover can be easily driven around using a Wii Nunchuck or a USB connection.
Well, the best part is that if there is a Bluetooth module around this little freaky gadget then it can go wireless and can be controlled with the accelerometers in a Wii remote. Somehow, I liked the freaky gadget but I wonder what would this rover do to wake me up!
Via: Hackaday