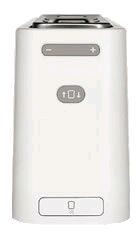 Check out the sleek Rowenta toaster from Jasper Morrison. This one is perfect for small kitchens where space is to be used judiciously. Despite having a single slot opening it can toast two slices in a single go.
The features that it carries balance for the heavy price tag that it bears. It has got photo sensors to check the browning controls, the stop/start signals are touch sensitive and it has a Brushed steel warming tray top. LED display and audible signals makes it really cool.
So if you plan to get one for you, then you need to shell out $135.