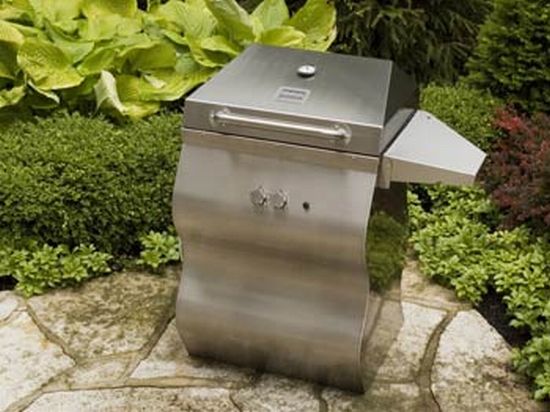 Now you would have another reason to invite your lovd ones over for dinner. Scuplture Series Stainless Steel Gourmet Grills is the last name in outdoor cooking and barbecue. Kalamazoo Outdoor Gourmet doesn't need any introduction. It is renowned for its outstanding design and usability of products.
Each grill is no less than a sculpture. You can admire its lines and curves, and its stunning hand-welded-and-rubbed stainless steel body and perfect knobs, hinges and handles for hours together. The size, 24″ x 18″ (432 sq. in.), is perfect for a standard-sized backyard or patio. It will make your backyard or garden fit for a celebrity.

I was so lost in its sheer elegance that I forgot to tell you about its performance, which again, is a match for its outer beauty. The full-sized (432 square inch) grilling area beneath the hood provide a wide range of grilling temperatures: from a warm heat up to an intense, searing grill, depending on your preferances and what you are cooking. Again, choose between the Sculpture Charcoal Grill and Sculpture Gas Grill according to your needs. They have their own virtues ( pull-out charcoal drawer in Sculpture Charcoal and two independently controlled grilling areas utilizing 50,000 BTUs from Kalamazoo Outdoor Gourmet's unique heavy-duty cast stainless steel Dragon Burners™, electronic ignition, integrated precision thermometer in Sculpture Gas, all directed towards the convenience of the user.
I can't help coming back again to its looks. All this time I thought all outdoor grills were big black boxy things. So what are you waiting for? get one of these, turn on your favorite music and have a memorable evening with friends and family amidst the tantalizing smell of barbecued meat and vegetables.
Source: Kalamazoo Outdoor Gourmet