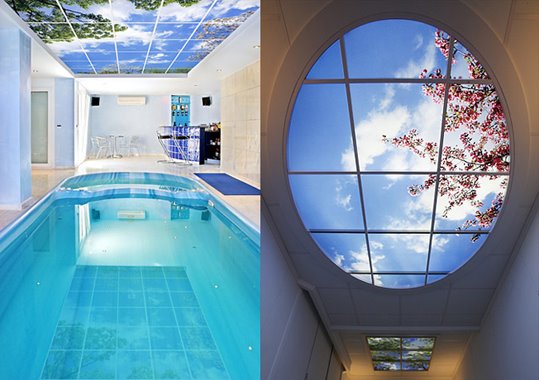 Are you a nature lover who always loves to sit in an open atmosphere where there are no boundaries and no limits to end your view? But, unfortunately you could not, due to personal and official works; you always need to go to the places which are totally covered by a structure i.e. your office which you can't leave and your home where finally you have to reach. So, here is a special surprise for you i.e. The Sky Ceiling brought to you by Sky Factory. The Sky Factory is a company that seeks to bring freedom, well-being and relaxation to the most diverse environments.
Sky Ceilings are photographic illusions of real skies that fit into standard ceiling grid systems. Sky Factory has images of almost every kind of sky, and many beautiful landscapes and specialty subjects. The Sealed Luminous Sky ceiling inhibits air and particle movement through the ceiling. The Ambient Sky ceiling fits into standard 2'x2', 2'x4', 60cm grid systems and it can also be customized and configured. This also sounds to be the best way to enjoy the nature while working.
There is almost no size limits, it is standard, easy to install and its designs are applicable to all kind of environments i.e. residential, official and institutional. It can also be used in hospitals, as it is the best way for the patients to enjoy nature.