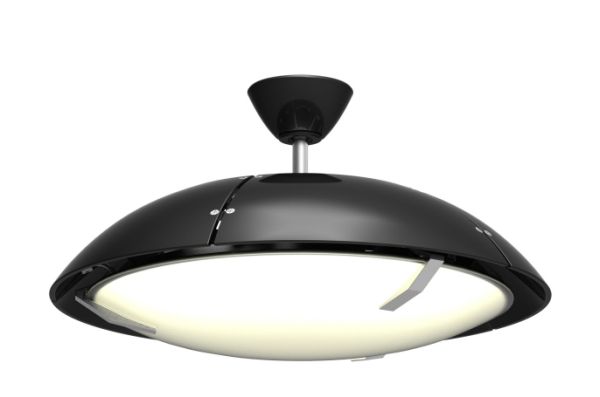 Ceiling fans circulate air in a room and keep it cool. They are an integral part of both homes and office spaces, and are savior during summer season. Fans have been in use since ages and have undergone a lot of changes. Current age designers are coming up with eye-appealing versions that will stick to the ceiling like a piece of delicate jewelry. Brian Kuchler has crafted a dainty option named Solaris, which vows to create ripples every time it spins.
The aesthetically pleasing design comes sans any long blades and does not work like the age-old creations did. Solaris is a small sized product that makes good use of axial and centrifugal fan technology. But, don't take its small size too lightly as the fan has the power to generate an airflow which is steady and strong. The fan has been specially designed keeping small spaces, like kitchens, hallways, stairwells and rooms, in mind. It can be fitted to normal fixture boxes as well as fan boxes. The motor is light in weight but has a high speed, which allows the blades to stir large amount of air. This is made possible as the fan blades ingeniously combine air movement of axial blades with the pressure capability of centrifugal fans.
Solaris comes wedged with a reflector that will illuminate the area it is positioned in. The presence of a glass canopy makes sure that light is diffused evenly and does not pierce through the eyes. The diffuser is kept in place with the help of three brackets and is easy to remove. The overall designing of this ceiling fan falls in the minimalistic and elegant zone. Solaris circulates air in a stylish manner and fetch unending praises.
Via: Briankuchler