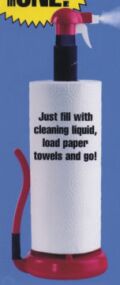 I know housewives will love this utilitarian invention called the Spray Bottle Paper Towel Holder.
Brainchild of a company called C-58, this spray bottle features a paper towel roll encasing the bottle. So all you have to do to use this is to fill the bottle with the cleaner and the towel will be all time handy.
With this around, it will be an end to running here and there in embarrassment looking out for rough cloth when your kids create all that mess before the guests.
The funky Spray Bottle Paper Holder can be currently ordered over phone by calling C-58 at (888) 962-4446.
Via: Strange New Products