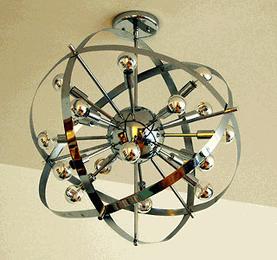 Check out this chandelier…this seems a perfect gift for an astronomer or one who has an obsession for space. The Sputnik Lamp will keep giving him the feel of the outer world.
The unique space-age design is one of its kind and ideal for a mod living room. Plated in chrome, the sputnik chandelier has 18 arms and the three outer most rings give it a unique atomic flare.
By now you must be guessing the price of this creation…and that too is one of it's kind and very much in accordance with the lamp itself. It will cost you just $775.