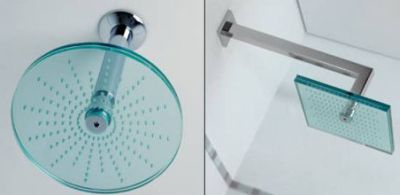 If breaking off the monotony of usual metallic showers in your bath is what you are looking up to…then here is something to give you a breather. The Euridice Glass Shower Heads from Ritmonio, is the freshest look of the season, when it comes to showerheads.
Available in a variety of cool shapes and sizes these are just perfect to add a touch of delicacy and class to your bathroom. The light green color of the glass compliments the water so very well, that the beauty of the falling water becomes manifold.
Euridice, are available in multitude of options in brushed nickel or chrome finish.