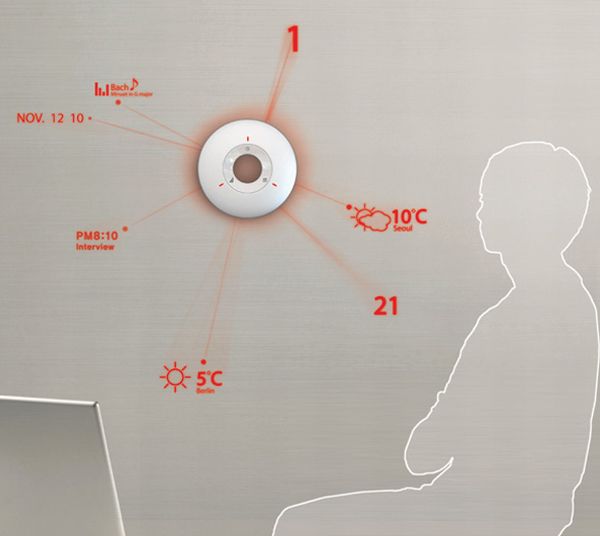 The concept
Designers Yonggu Do, Dohyung Kim and Sewon Oh have conceptualized an unconventional wall-mounted clock which can beam all sorts of report on a wall. The Sundial Concept Wall Clock allows us to simply glance over the required report such as weather, personal appointments, batch markets as well as other important stuff. And, of course, it also shows the time and day! The clock integrates laser beams, touchpad UI, WiFi, Bluetooth and computer syncing. The data is incurred into the sundial via wireless networking and interpreted through laser beams on the wall.

The inspiration:
The sundial is the oldest known device for the measurement of time. All of us get started with sunrise and end it with the sunset. In our busy routines, the sundial concept comes up with a basic idea of not only looking for the date and time but also to check our plan for the day, the weather reports, stock markets and other important stuff.
What's different?
Wall clocks are pretty much outdated and obsolete nowadays. But the new sundial concept is a wall clock that not only strikes out laser beams to show the time and date but also integrates a WiFi and touchpad UI to keep us updated regarding our day schedule, stock markets, weather reports and many more things.
Key features:
Sundial is a wall clock of the shape of sun that uses laser beam to interpret time and date like traditional clocks do. In addition to that, a wireless networking system is utilized in the concept to receive data and to provide other sorts of information like the weather report, stock exchange news and our daily plan for the day. A touchpad UI is fitted in the 'Sundial' for operating it comfortably.
What's in it for me:
Sundial is not like a traditional wall clock that displays only the time. It can be used by people who have to quickly manage time and keep track of daily schedule and also receive updates on weather report, exchange news and other necessary information.
Via: yankodesign