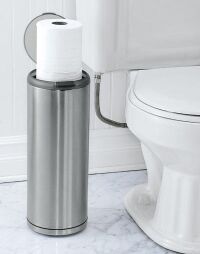 Have you ever felt embarrassed before your guests because of something as petty as toilet papers? I've when suddenly my bathroom went out of stock of papers and one of my guests needed that.
If you wanna avoid that embarrassment then get the cool OXO Pop-Up Toilet Paper Holder, made in stainless steel. I liked it because it can store up to 3 extra rolls inside stylish box that pops up automatically when the lid opens, just with the press of a button.
So no more embarrassment and no more running around for tissues when the roll is empty for the new one will automatically take its place.
Via: TheGreenHead