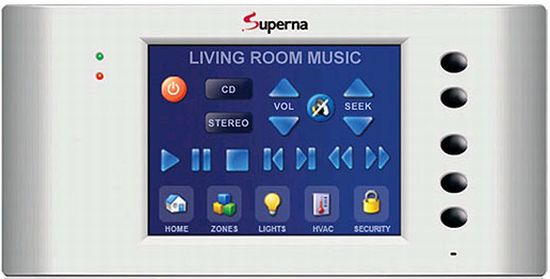 Here is something that the gizmo freaks among you would love. The Superna 6-inch Touch Panel is a cost-effective UPnP-based wired or wireless solution for high-end user interaction with your home automation system. It provides serial and USB connectors for all common types of interface modules for controlling household devices, appliances or systems. So, what does the little wonder measuring 10.08″ H x 5.04″ W x 1.9″ D (256mm x 128mm x 48mm) and weighing 2.53 lbs. (1150g) offer? A lot! It is loaded with AMD SC2200, 266MHz processor, SODIMM socket, up to 256MB SDRAM 100MHz memory and LCD controller with graphics accelerator NTSC/PAL Analog video encoder. It uses Linux as its operating system. The touch screen can be wired to your network via cat 5 cable or it can communicate via Wi-Fi connectivity.

Is that it? — No, far from it! 5.7″ SVGA 320 x 240 pixel Resolution Resistive Touch screen, 12-bit color dept, 400nit brightness promises amazing picture quality and clarity. Also, the AC97 compatible audio system complete with on-board stereo speakers and on-board microphone ensure a marvelous audio experience.
It supports direct audio and video streaming of major formats and can direct streams to a specific resource such as a TV or stereo from any PC on the home network. And I don't even need to mention its sleek, compact design which makes it easy to mount!
It carries a price tag of $2250.00.
Source: Smart Home