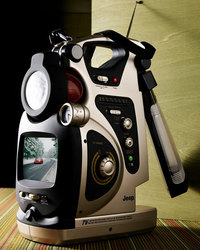 I don't know what to call this barely credible thing but in short it is a – TV cum Radio cum Lantern cum Flashlight cum Emergency Siren cum Audible Mosquito Repellent cum Thermometer cum Compass cum Clock … PHEW!!
Yes, this wonder gadget combines the functions of all these gadgets into single component. Called the Swift Army Knife, this happens to be a must have gizmo in every home. With this handy you won't have to run all over collecting things, when you are out on a safari…in the woods or for that matter any deadly place. The Swift Army Knife will be there at your rescue.
What more? The 17x11x8′ gizmo even has a 5′ color TV, AM/FM weatherband radio, apart from other things. All you need to shell out for this incredible piece of wonder is $300.
Via: Book of Joe