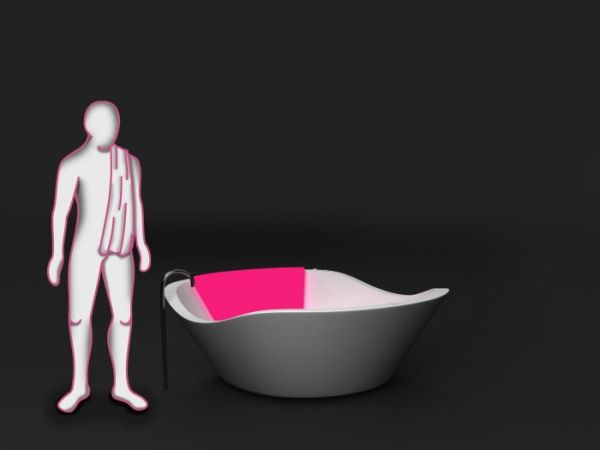 Fernando Severo in collaboration with Ana Carolina Chiarello Tomas has designed the Temple Relaxing Bathtub, which will make you taste luxury even in bathroom spaces. The free-standing bathtub has been crafted in a tasteful manner. The outer facade has been dipped in simplicity but still manages to attract attention.
It comes coated with versatility and make your bathroom area bear a peculiar look. The eye-appealing bathtub has been crafted from fiberglass and polyester resin. It is further be given a neat finish with air brushed painting and gelcoat which gives the product an amazing glossy appearance. Once inside the tub, feel a sense of weightlessness, thanks to the presence of micro air bubbles that will be released by a blower system. This will relax senses and make you slip in a comfort zone.
Colors have a tremendous effect on human moods. The designer has made good use of color therapy in his design and fitted the bathtub with colorful LED lamps. LEDs in various hues like red, blue and green will be fitted on the inside of the polyethylene back support. The shade of these lamps can be chosen, depending on the mood of the user. It will further add a sense of serenity and slowly fade away all the piled up tensions. The Temple Relaxing Bathtub promises to refine the bathroom environment further with so many incredible features.
Thanks Fernando Severo and Ana Carolina Chiarello Tomas!