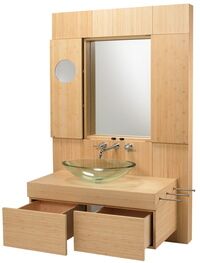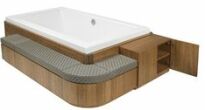 "Tetsu', that literally means peace in Japan is the name of the new range of designer-spa-in-a-box, by Porcher, the luxury brand for American Standard.
This is enough to give you a complete spa experience right in the comforts of your home.The basic structure is a harmony between bamboo wood and brass. The natural materials give it a really warm and earthen look.
Tetsu is highly modular with pre-mounted sinks and mirrors that can be adjusted as per your own requirement. This is not the end'the towel racks are operated by a slight touch when you need them.
Last but not the least is that wall mounted candle box that's simply perfect to give you that warm, soothing and welcoming ambience of the spa.
Via: PureContemporaryBlogs