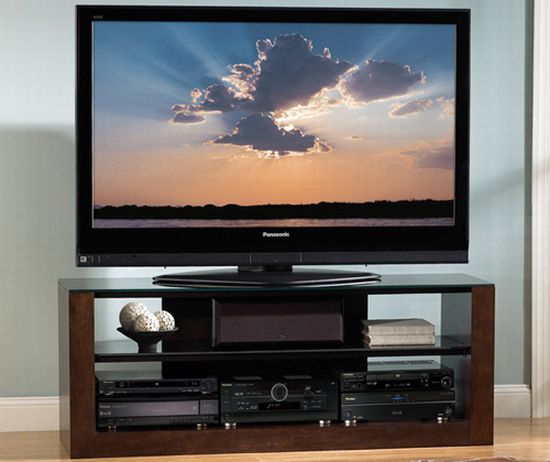 Now your costly audio/visual gear need not suffer confinement to stuffy cabinets. Bell' O has come with a really good cabinet called the AVSC-2061E to house your A/V gear. Its trendy look, classy color and glossy finish are going to impress you in seconds. This glass, wood and metal combo has got beauty that is more than skin deep. It offers you a lot of useful features. Firstly, it can hold a really long piece of Audio/Visual gear like the present day plasma and LCD flat-screened television set. It can hold A/V components that are about 65 inches in diameter. This cabinet has 7 slots on the whole- 6 for holding your various A/V components and one in the middle for the speaker.

Secondly, I would like to call the AVSC-2016E a 'cabinet with a golden heart' because its middle shelf gives ample space for your A/V devices to fit in vertically(your poor A/V device that is slightly taller than the rest of its cousins need not fear being tightly sandwiched between the upper and lower shelves). The next thing that this cabinet does is, to give a well-ventilated space at the back for the A/V gear to get rid of excess heat after entertaining you. The open air design also keeps away insects and termites and gives you cleaning efficiency and convenience.
The cable management system preserves the neatness and beauty of the cabinet and your home by hiding the A/V gear wiring. However, I feel this cabinet should have had wheels as portability is a top-priority feature for contemporary furniture. It is priced at $700.
Via: Slippery Brick