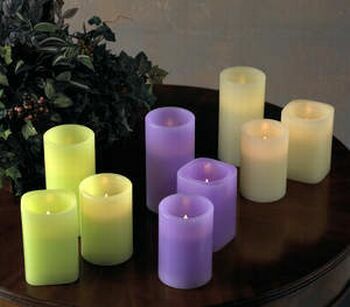 You want a candle light dinner in your home but you do not like the hassle of flames and melting wax. Then Mark Feldstein & Associates, a supplier of unique gifts are bringing new candles for you.
The Everlasting Flameless Candle utilizes LED light bulb inside rather than thread. The battery-operated candle provides you all the benefits of traditional candles without hassle of flames and melting wax.
This new candle also includes scented wax and soft, flickering light. The candle can be used for minimum 100,000 hours.
The Everlasting Flameless Candle comes in three colors, shapes and scents, which are given below:
1) Vanilla scent in ivory in 4-inch square shape
2) Citrus scent in green in 4-inch round shape
3) Lavender scent in violet in 6-inch round shape
While using, the Everlasting Flameless Candle can randomly change color also. The cost price of the Everlasting Flameless Candle is $9.95 for four-inch candles and $12.50 for six-inch candles. These candles are safe and secure. So now, you can use these flameless candles anywhere in your home.
Via: MarketWire