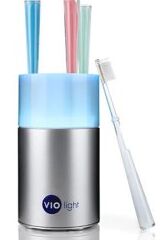 Toothbrush is one thing that most of the times are ignored, when it comes its condition. We don't realize the fact that when we put a brush in our mouth we are making ourselves accessible to so many germs. Thus, keeping your tooth brush in a good shape and clean keeps germs at bay and reduces the chances of falling a prey to infections and diseases.
The VIOlight toothbrush sanitizer is an effective gadget to safeguard your family against germs and infections. Shaped as a toothbrush holder, it uses the same technology as used by dentists called the germicidal UV light.
You just have to push a button and it will starts off with the sanitizing process and automatically gets switched off after 10 minutes ones it is done with the it. It can be easily accommodated in your bathroom because of the convenient size. VIOlight VS100 Toothbrush Sanitizer is prized at $49.95 and is available here.