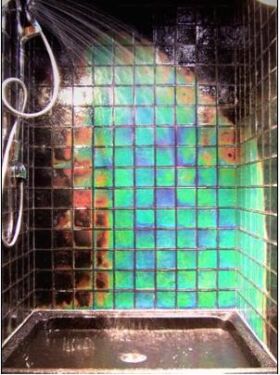 How about a bathroom that's dynamic enough to change its color…won't that be great? To bring this phenomenon to life is possible with Moving Color Glass Tiles. Yes these tiles change their hue in response to the heat it is exposed to be it from the water or the radiant heat source.
These tiles use special dye that enables it to change their color and can be installed easily with any kind of water application. The color changes from black to other hues once temperature rises and comes back to normal on cooling.
Must say, the tiles are sure to add a different spark to your bathroom. The tiles are priced at $180 for every 1 sq. ft of 4 x 4 Glass Tile.
Via: Trendir