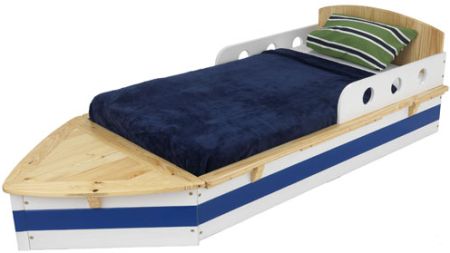 You come to know that you have to buy a toddler's bed for your child immediately after he starts to climb out of his crib. Today there are a lot of options when you go to buy a fantasy themed bed for your toddler. There are Roadster car bed, Fantasy coach, Fairy tale bed, Gingerbread cottage bed, etc. Before buying the bed for your little one, you must be sure about his safety while sleeping. The Toddler Boat Bed is perfect for the child who is ready to move out of the crib but not quite ready for the big boy bed.
The height of the bed is safe to hop in as well as to protect him if tumbles over. The bed has safety rails for him to protect while sleeping and also the crib mattress to hold him. It becomes very difficult to make the child sleep on his own bed. The design makes bedtime a real fun and will sail your baby to sweet dreams. There is a hidden storage under the bow for the worldly possessions of your child.

If you add some stories from your side, it will create a new dream world for him. This Toddler Boat Bed will be a cute addition to your child's room. You can change the whole theme according to that. Like, the chairs and table, some of the toys, some cartoon characters like Popeye – the sailor man and what not.
Via: Mattresszine