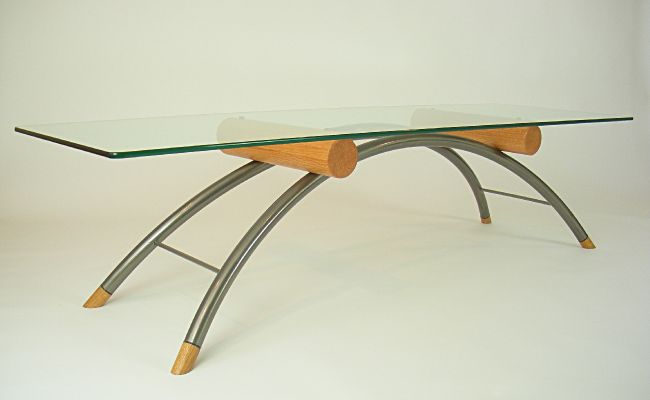 Coffee tables are great additions to your living room accessories. A coffee table that looks classy and stylish, functional yet beautiful, adds character to your living room. The focal point of most drawing rooms, the coffee table needs to suit perfectly to its surroundings. The Ton Sai coffee table is one such table that has detailed designing and a smooth finished approach to entice immediate attention. Shaped from thick-walled steel and solid hardwood the table will add exuberance and classy detail to your room making it the most talked about theme amongst your visitors.
If you have modern or contemporary type of home, the Ton Sai coffee table might just be the right complement to the style of your room furniture to suit your life style and blend perfectly into the décor of your home. It is a product from the Gitane workshop that is a Denver-based furniture studio founded by Scott Friedman and known for its distinctive authenticity and exceptional craftsmanship. The beautifully crafted coffee table has bored down metal connectors that are machine screwed to the glass panel giving it a classy appearance.
The cylindrical hardwood elements of dimensions 17h x 64w x 20d inches, is shaped into concave surfaces with polyurethane finish presenting a more graceful facade. The glass with rounded corners is 3/8 inch thick and the steel surface is mastered with powder coated finish. The resulting product exudes a classy look. Furthermore, the wood is available in red oak, walnut, cherry and ash to suit the décor of all type of homes, offices or other commercial spaces.
Via: GitaneWorkshop