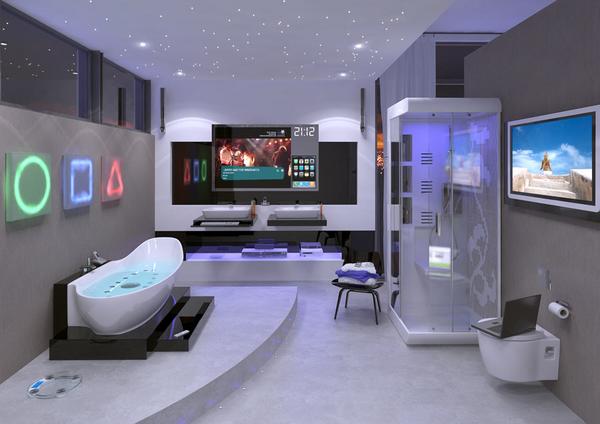 Be it a dip, a dive, a splash or a splurge, a bath is always refreshing, relaxing, rejuvenating and reviving! To enter a bathroom itself is a luxury. Now imagine having the lights come on, the shower sprinkle softly or sensual music wafting in the air, as you bathe…! Wouldn't that be paradise?
Let's enter into the world of automated bathrooms where every bath is bliss!
1. Cradled in copper? TUB-E – A tub for the exotic
Fantasize bathing in this regal looking bath-tub in copper/silver finish, encircled by a swirl-steel-staircase. With tiny pinhole LED lights ensconced in the perimeter of the tub and an internal heater keeping the water warm, this eco friendly water-saving tub comes with a variety of options like auto-clean, auto-fill and auto empty and also adding aromatic oils during the fill cycle.
Fabricated by Wild Terrains, Tasmania, the Tub-E offers a one-touch experience to luxurious bathing.
2. Viega's Multiplex Trio-E auto-fill bath controller
Enjoy your dream-bath at the right level and temperature with Viega's Multiplex Trio-E auto-fill bath controller. With a mixer compactly hidden underneath the floor surface, and the circular control knob fitted on the edge or wall of the tub, the Trio-E has a built-in memory to store the settings for your perfect daily bath. With user-friendly buttons, a tap on the button for filling, a long press to use a hand-mixer, the Trio-E calls for a truly terrific bathing experience!!!
3. Sensible, sensuous bath with Rada Sense
At first sight it may look like a flying saucer, but it is only Sense – an electronic bathroom controller by RadaControls, a unit of Kohler, Germany. Stunning, sleek, silver and sensational, the Sense is truly the world's first digital mixing valve. The Sense controls the temperature and water flow timing and is systematized to perform thermal disinfection and heavy duty flushing for your regular bath.
With its clearly-illuminated display and no-touch panel, the Sense, being computer-accessible, is ideal for use in showers, basins and baths, in single or multiple installations. The Sense is a revolution in bathroom control.
4. Roca's Active and Relax Bathroom
Watch an ordinary stark and sterile bathroom turn into a gym or an entertainment center with Roca's Active and Relax Bathroom. Tucked beneath the floorboards is a sunken bathtub that provides soothing water to caress your body. Sliding floor boards, which conceal the bath tub, when not in use, transform the bathroom into a gym to work out (or a studio, maybe!).
LCD panels, replacing windows, transform your bathroom into a home-theater, when rigged to your computer. Go in for this futuristic next-generation ensemble for the perfect bathing experience!
5. A touch and torrent of water from Grohe's ONDUS
Grohe offers a one-touch digital interface that facilitates effortless operation of your bath or shower with its Ondus. The Ondus offers an array of digital/manual bath/shower mixers, and basin faucets in a colorful metallic range: Moon White, Velvet Black, Frosted Titanium and Starlight chrome. Grohe's Ondus is a fusion of perfect design and advanced technology.
6. Ecstatic Flow from E-FLO
E-FLO, from Bathroom Automation Systems (USA), is an easy, ergonomic and enviable option for Automated Bathing. E-Flo offers a 10" water proof and programmable LCD touch screen with pre-loaded software; full internet access with e-mail and news reader; built-in Media Player, TV and MP3 player; in stereo speakers and microphone; programmable shower with preset time and temperature controls, electronic hot water limiter, child disable switch and fingertip control. So you name it, E-FLO has it !
7. Intelligent iPhone bathing with Bathomatic
Bathomatic from Unique Automation is a touch-screen interface with automated level and temperature controls which, when networked to your PC or iPhone, controls your bath. The touchscreen controls, embedded on your bathroom wall, come with a colorful motorized plug in nine different finishes from chrome to solid gold.
8. Bathovision – new dimension to bathing Luxury
Bathovision is an intelligent interface which controls Bathomatic via remote access. It is a tamper-proof and water-proof digital television. Its heated screen prevents condensation and allows you to enjoy your favorite shows as you bathe.
9. i-Shower: Intelligent shower at your service

iShower from Unique Automation is an intelligent and technically sophisticated shower to adorn your luxurious bath. With its multiple controllable outlets like hand shower, foot shower, body shower and body jets, it also dispenses shampoos and conditioners at the right time.
10. Enter or exit your Bathroom with Ensuite
Relax and enjoy a leisurely shower as Ensuite automatically operates your lights, fans and heated towel rails, and gives you multiroom audio while you shower or shave.
Now isn't Ensuite an exquisite bathing experience?