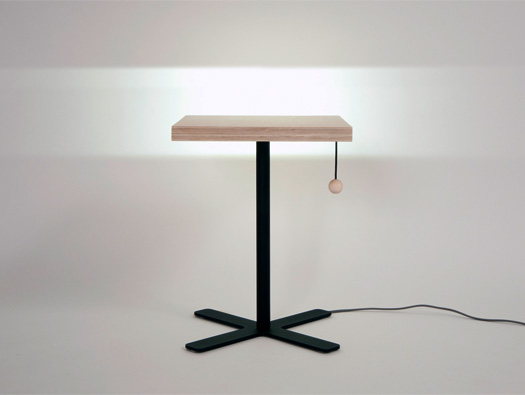 What?
Suppose you are walking at night and some stranger wishes you 'Natta' with a smile. Wondering what that means, there would be a chain of thoughts erupting in your mind. You would even go to the extent of thinking, maybe the other person who wished you has gone insane. Well, it's no gibberish and certainly the other person was not crazy. 'Natta' is a Norwegian slang for good night. If this brought a little smile on your face, then this cute little contraption will etch a broader smile.
Manufacturer:
Brought to you by Jenkdesign, Natta is the lamp with a table top for a lampshade. Thomas, an upcoming designer being one of the 35 selected to exhibit as a part of the Talents program would be displaying his artistic lamps at the Ambiente Fair in Frankfurt this year.
Overview:
The way in which the lamp works is actually quite simple. Activated with the help of a simple cord, the low voltage LED is integrated into the back of the top unit. Using the wall as a reflector, one can adjust the amount of light emitted. Just a quick pointer for the users. If you are in a romantic mood and feel like dimming the lights, just place the lamp at a little distance from the wall, and create an ambiance of utter bliss and serenity.
Available in 2 varieties, this artistic piece comes with an attached drawer unit as well as without it. If you are a storage freak, and need extra space to store the little tit bits, then go for the lamp which offers convenient space utility. If not, then simply go ahead and buy the ones mounted on the steel base with an excellent finishing in black.
Key Features:
Based on a unique design for adjusting the light, the lamp combines convenience with style. Mounted on a steel base, this lamp allows you to set the mood the way you want to. Allowing you to store things, along with a variety of other features, the lamp is every bit pocket friendly.
What's unique?
The uniqueness for this product lies in the style in which it is built. Made out of birch plywood, and based on a steel base, the lamp comes equipped with a drawer as per you choice. Store things, or simply light up the room, this product is handy in its own ways.
Don't hold back, this is surely as handy as it seems. Grab one today off the stands and set your mood the way you want to.