Pergolas are a great way to extend your living space to the outdoors. They define a space and give structure to it. Of course, they also provide some shelter and protection from the sun. The pergolas have become so popular as features in the yard because they can be free-standing. The advantage is a pergola can be added at any time. It does not need to be connected to the house. In fact, your pergola could be purposefully placed in a spot away from the house.
Spring is the perfect time to give your pergola a little TLC. A good cleaning is the perfect starting point. Use a pressure washer to remove dirt and any moss or algae that may have started growing. Restain or paint the pergola to freshen it up. Give the climbing flowers or vines some attention while they are still dormant. Clean the pavers or concrete flooring.
Once you complete the deep clean, reevaluate the function of your pergola. Has that changed? Maybe when you built the pergola, you had teens who used it when their friends came over, and now you're an empty nester. Maybe you would like more privacy, or you would like your pergola less enclosed.
Before you make any updates, really consider not only how you will use your pergola, but what is the mood you would like the area to inspire. Will it be romantic or exciting? A refuge or a party? Casual or elegant? This will help determine how to update your pergola. Of course, the amount you can budget toward the update is also important. Here are some ideas that range in scope from DIY to professionals only.
1. Hang string lights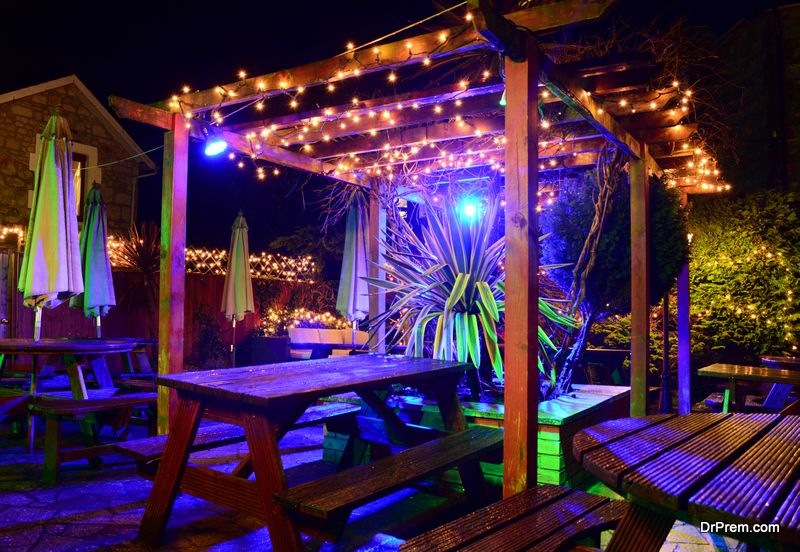 Hang these lights throughout the pergola rafters to set a mood. Use larger lights or even colored lights for parties. Novelty string lights are also available. The small twinkle lights that simulate stars don't give off much light but look so romantic.
2. Add shade cloth
Shade cloth can be loosely draped between the rafters for a soft but functional effect. If you want a more contemporary look, there are coverings that are more substantial and are stretched across the top of the pergola.
3. Plant vines
Plant vines next to the corner posts of your pergola so they will grow up the post and cover your ceiling with foliage. If you plant climbing flowers and vines, you will have the added benefit of the beautiful flowers and possibly fragrance as well. If you already have vines growing, add the twinkle lights in the foliage to highlight the flowers and leaves for a magical look.
4. Incorporate some furniture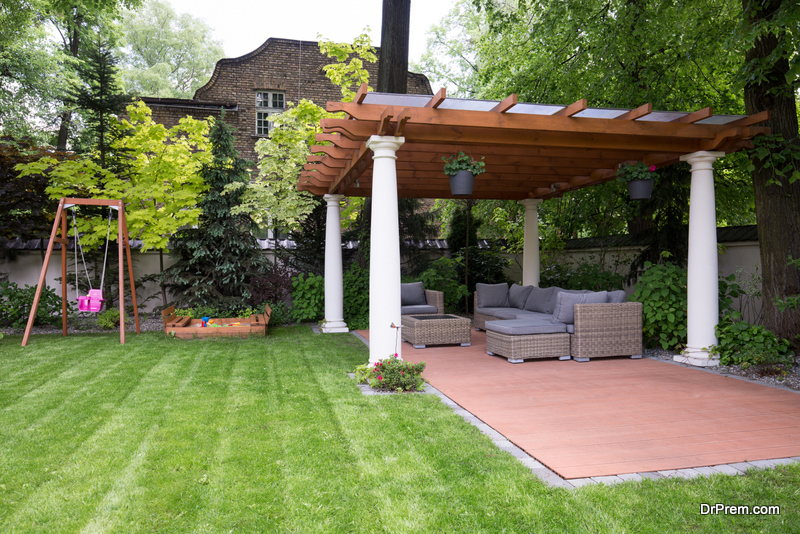 Consider upgrading your outdoor furniture. Add an outdoor carpet. Make your pergola look like an extension of your home.
5. Add privacy elements
If privacy from your neighbors or the street is important, there are solutions. Attach rods to the top of the perimeter wall and hang curtains. These can be tied back at the posts when not in use and extended to provide the needed privacy when necessary. These curtains are also a solution when the sun is low on the horizon and you need shade. Another solution is using plants. Use shrubs to provide privacy or build a half wall with a planter on the top that can be filled with flowers and plants. An alternative to a permanent wall would be placing several tall decorative pots across the opening where privacy is needed. Plant with an assortment of climbing flowers, annuals, grasses or even a miniature shrub or topiary.
6. Hang a hammock
One of the advantages of having a pergola is the strength of the beams allows you to hang things on it. Suspend a hammock from your pergola. What a fun way to spend time outside. An alternative to the hammock is a porch swing.
7. Don't forget to make it comfortable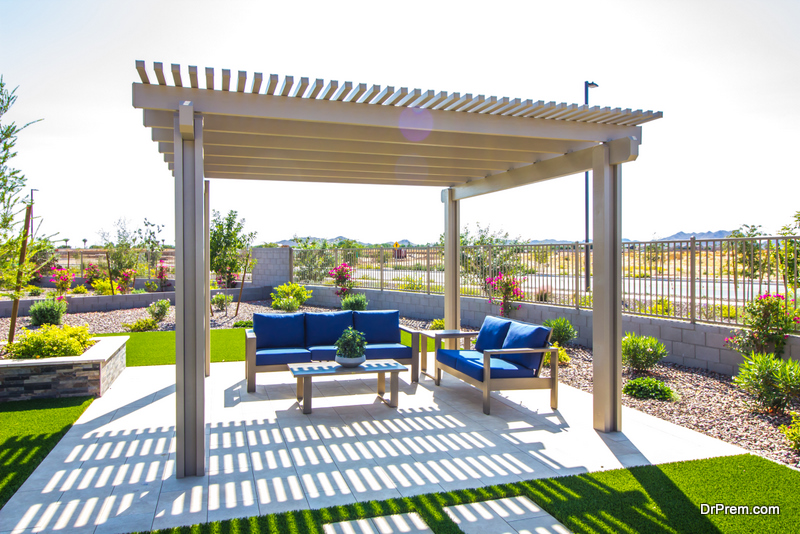 Add a ceiling fan or a heater. Both of these will allow you to increase the time you spend outdoors enjoying your pergola. Turn on the fan during the warmest part of the day and use the heater during the cooler evenings. The option of heat also extends the season. You will be able to use the area earlier in spring and later in fall.
8. Hang a chandelier
Hang a chandelier from your pergola–not just to provide overhead lighting but as an unexpected feature. Again, stick to the mood you are trying to achieve. If you want a romantic look, you might choose an antique chandelier with faux candles. If you want something fun, look for something unexpected or colorful. 
9. Continue your garden around the pergola
Hanging plants and pots of flowers in your pergola will add beauty, fragrance and bring in the butterflies and hummingbirds. Plants and flowers help the transition into the landscape as well.
10. Consider a fire pit or table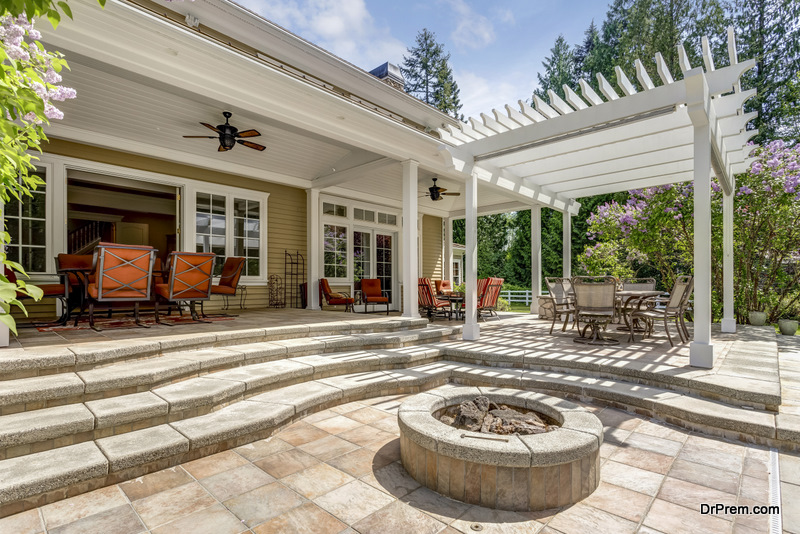 Fire tables offer a place to gather in the evening. The flames are fueled by propane in many cases so they can be placed anywhere. They are romantic but also functional. They do give off some heat and you could even use yours to make s'mores with the kids. If you really want fire, consider having an outdoor fireplace. A fireplace wall would be an amazing focal point of the room. Include a wood fire pizza oven and host pizza parties for friends and family.
11. Implement a water feature
Consider adding a water feature. The sound of running water is calming and brings tranquility. There are lots of options in many price ranges. A small pond adjacent to the pergola or a fountain placed in the surrounding landscaping is an option. There are also very contemporary water features that are really works of art as well.
12. Create an outdoor kitchen
If you love to entertain and food is a big part of the fun, consider upgrading to an outdoor kitchen. These can range from a built-in grill and a mini-fridge to a fully equipped kitchen with all the amenities. Add an outdoor dining table and you are ready to go.
There are lots of ways that you can update your pergola. Use these ideas as a starting point to make your pergola perfect for you.
Article Submitted By Community Writer