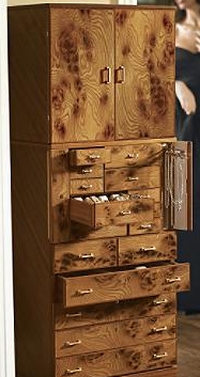 Worried about keeping your fine jewelry and valuables safe and protected? Here is the burl wood-beauty to serve your purpose with its built-in safe. Made of rich, exotic woods with a glass-smooth finish look, the fine jewelry storage pieces are also sturdy.
The Jewelry safes are designed in Florence by Italian artisans, lined in a tarnish-resistant, ultra-soft fabric to protect your delicate jewelries. You can lock all the drawers, by just locking the top safe behind an ultra-secure steel safe. It is secured using an electronic keypad.
There are 12 drawers in the middle, where you can store precious rings, watches, earrings, necklaces, and small or other daily-use valuables. The four bottom drawers are interchangeable.
The state-of-the-art safe can also be anchored to the wall, if you want.
Via: frontgate