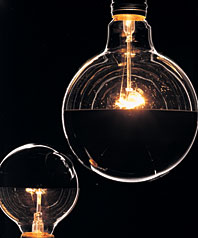 The beauty of unfrosted lighting fixtures once again comes in the limelight. The retro styled unshaded bulbs are a pleasant option over the regular lighting stuff used.
Though the market is flooded with plenty of new styles and designs of lighting options, the simplicity of the unshaded bulb, displaying the glowing filament, is unmatched.
The silver mirrored dome protects the eye from the glowing filament and at the same time it illuminates the room in a fish-eye effect.
These bulbs are making their presence felt in many restaurants, and can beautify your home in a unique way.
The price for these bare bulbs range from $5.95 to $11.00 at Just Bulbs.