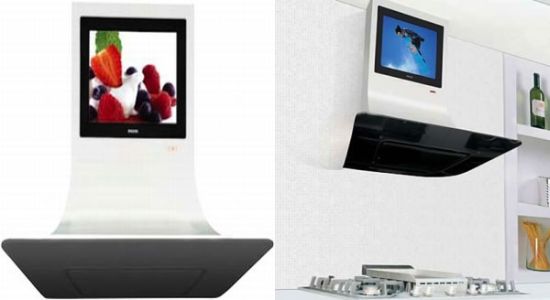 Television is surely one of the best sources of entertainment. Many a times, we have to give a miss to our favorite programs as we're busy preparing the day's meals. If you're someone, who likes to watch television while cooking, but don't have enough space for a tv sitting on the counter top, then here's an alternative- a range hood with the tv, built in.
It's an elegant Vela Range Hood from ILVE. This sleek range hood comes with built in 10-inch LCD monitor located right above the stove. It is designed by an Italian designer named Marco Valerio Agretti.
Cooker Hood Features:
•AS 304 Stainless Steel
•Hardened glass with black serigraph
•Washable anti-grease filter
•Easy cleaning system
•Available in exhaust of filter version
•Touch screen commands
•Four speed
•Adjustable and delayed self-switching off (from 5 to 20 minutes)
•System for automatic switching on with regulation of the speed in accordance with the quantity of heat from the cooking (optional)
•2 centrifugal motors
•Upper or back 150 mm. outlet
•10inch flat LCD monitor with remote control
•RCA cable outlet and DVD input.

What's different? The Vela Range Hood helps save space in the home by featuring a built-in LCD TV. It has built in touch-screen to help you easily switch between channels. The television can be controlled via a wireless remote that will hopefully find a place in your kitchen drawer.
Price and availability: No word on when this chic range hood, will be out on the market shelves, or the price. One thing I know is that you certainly deserve some form of entertainment while you cook!
Via: Geekalerts, Techiediva, Slashgear, Luxuryhousingtrends