The past two years have been majorly spent at home, making everyone realize the importance of home, family, and friends. So if you are looking for some upcoming trends that can give your home a fresh look, you are at the right place.
Everyone demands a slight change. Also, with everyone spending significant time here, you must revamp it with new wall arts and decor to change the mood.
Let's discuss some wall art and decor that are going to rule in 2022.
1. Nature-Inspired Walls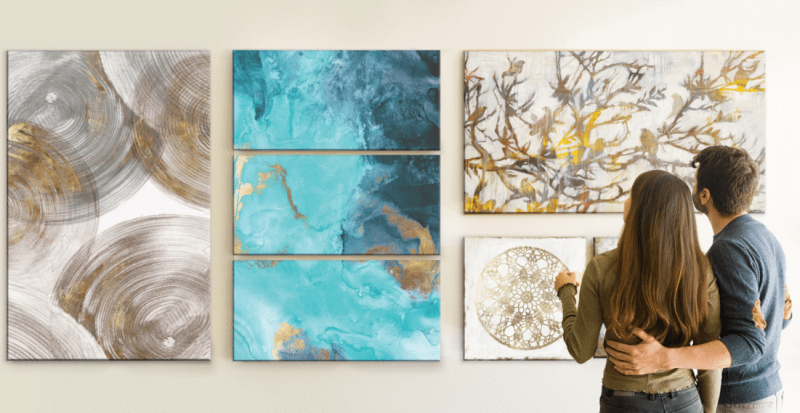 With everyone spending maximum time at home, you must have realized the importance of nature. So you can turn your wall in a trending nature theme to instill a fresh vibe in your home.
You can hang some botanical print canvas or a natural landscape. The wall arts derived from flora and fauna are immense.
Another fantastic way is to hang some wall plants with the help of a potter. For Example, you can hang galvanized pots on a wooden backdrop. Explore trending art pieces and choose what's best for you.
Go out of the box and install natural moss and water fountains on the wall. They need little care and look very grand and soothing.
2. Minimalism Rules
Minimalism wall decor is for you if you love clutterless and sleek wall decor. Minimalism means to the point decor with simple and basic illustrations.
Minimalist wall arts with black and white, monochrome, or colorful yet simple wall canvas look very stylish.
3. Sizable Wall Arts
Sizable wall arts are also trending due to their advantages. A single wall art rather than multiple is easy to handle and install. Many contemporary-style homes experiment with large wall art on a sizable wall.
Picture a large canvas on an accent wall of a living room. The masterpiece doesn't require any accessories and is complete in itself.
Not only canvas but large wall arts like a clock, tapestry. A Sizable vintage-style calendar and mirror also go with the trending wall decor.
Make sure to hang it 57 inches above the ground for best eye-level placement. If you're mounting it above furniture, let it hang 6 to 12 inches above the furniture. Make sure the distance is measured up to the bottom of the wall art.
4. Zen Style Decor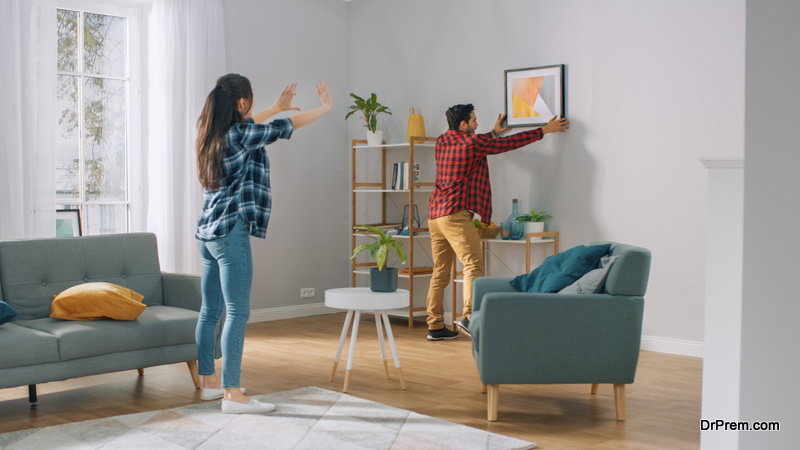 Zen style is derived from the Asian style and looks very calming and soothing. Zen style calming natural landscapes, canvas with peaceful quotes, sizable buddha arts look very positive.
5. Modern Wall Decor
Modern wall decor is like many abstract , geometric, emotional, and unique arts on the wall.
Modern wall arts paired with modern interiors and large open Pieces look very premium and lavish.
6. Trending Wallpapers
Change the look of your space with easy-to-install and removable wallpapers. They are available in unlimited colors, textures, and prints. They can be very simple to very bold, depending on your choice.
Wallpapers are modern era ruling wall decor. You can apply it to your accent wall and match it with subtle color walls. It will level up your set to a higher level. Also, you can paste it on all the walls.
7. Smart Shelving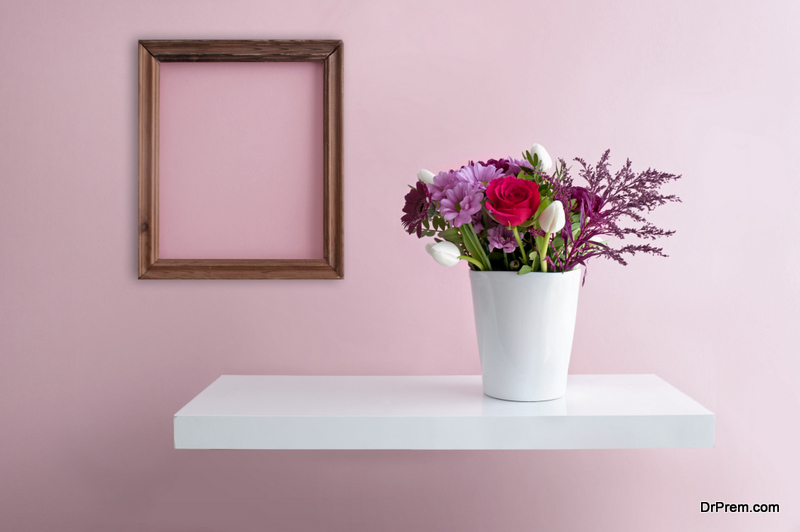 Wall decor is not always about wall hangings but unique and practical shelving too. You can install ledge shelving, floating shelves, and many practical space-saving shelves.
8. Bohemian style Wall Decor
The bohemians style. Comfortable and cozy wall decor with lots of elements is also trending. The wall decor includes lots of woven tapestries like macrame hanging. In addition, you can hang exotic tapestry items with graffiti or mural-style wall canvas.
9. A Personalized Gallery Wall
You can curate a personalized gallery wall with your favorite photographs and clicks by converting them to photo print canvas. In addition, you can create a grid of framed photos. The personalization on wall decor always looks repeat and touching.
10. Metal Wall art
This remarkable wall decor is fast appearing on the scene. An expert can achieve wonders with metal. Most stores are now marketing several metal art objects. The most common are those long-drawn thin figures and masks.
Metal wall art in the shape of floral things like fern leaves and beautiful designs also looks remarkable. You can frame the metal wall art and hang it to add royalness to your wall decor.
11. Wall Murals
A decade ago, comfortable in addition, your modern interior design trend, murals made a robust recovery. It was fired by the street art journey that beautifies outer facades with jaw-dropping artworks.
There are several types of murals you can use to make a strong impression. Choose whatever feels the most comfortable for your skills and practical for your home. For example, you can paint the wall on your porch or bedroom or start with mural canvas arts.
Let's sum up
The trend comes and goes, but you can try different trending wall arts with easy installation and removal. So don't play safe with bland wall decor and try new trending elements to give you energy to your home.
Article Submitted By Community Writer