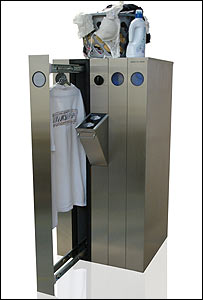 Oliver Blackwell, a Devon student has designed a new machine that will do all the washing, drying and even ironing for you. The machine is called the WashDryIron and it does all this in different compartments.
WashDryIron will be exhibited in the next month's Ideal Home Show. Ironing feature will become the USP of the machine as this will save a lot of time that goes in ironing on a daily basis.
It can tackle up to 16 items at a time, including king-size bed sheets.Because hangers are used, they do not become entangled and have 83% fewer creases, according to the designer. The items are then dried and ironed by hot air blown across them.
The designer claims another major benefit of the separate compartments is that muddy sports gear can be washed at the same time, but at a different temperature to delicate fabrics.
Sounds Interesting…isn't? But still we have to wait for some time for getting this one as Oliver is on a search of a major manufacturer.
Via: BBC