When your furnace breaks down, it can be a real hassle trying to find a reputable repair service. Choosing a furnace repair service can be overwhelming with so many options available. Here's what to keep in mind to make a confident selection:
Following these tips will help ensure that you find a furnace repair service that you can trust.
1.   Verify Company Licensing and Insurance
When furnace repair is needed, it's important to know that your home and safety are in the hands of a reputable company. Before making a decision on who to hire for furnace repair, homeowners should check that the company carries up-to-date licensing and insurance information.
This will ensure peace of mind knowing that all of the work conducted is within industry standards and finds any potential issues that could be harmful to your home and family. Furthermore, it's good practice to always do research online or through friends and family to make sure the furnace repair service you hire has great customer service as well as competitive rates.
2.   Read Customer Reviews for Quality Assessment
Choosing an experienced and dependable furnace repair service can be a daunting task. The best way to ensure your satisfaction with the service's quality of work is to read online reviews left by past customers. Such reviews provide an honest and unbiased look at the company's abilities and professionalism.
They also allow you to get in touch with customers who have hired the same service, so you can ask them questions directly about their experience with it. In addition, online reviews can provide information on customer satisfaction with specific parts used by a given repair service. By taking into account all these factors, you can be more confident that you've selected a furnace repair service that will leave you completely satisfied.
3.   Get Multiple Quotes Before Deciding
When it comes to choosing a furnace repair service, getting quotes from multiple companies is key. Taking the time to compare quotes will ensure you select an experienced and reputable company to get your heating equipment in top condition. It will also provide an opportunity to compare prices, which can make all the difference when assessing which provider best meets your needs.
Furthermore, you may be able to find a good discount if you bundle several services together with the same contractor; this could serve as a further incentive for selecting that particular provider. Ultimately, researching your options and weighing the pros and cons of each option is essential in determining which service provider is best for you.
4.   Choose a Company With a Work Warranty
When dealing with a major part of your home like a furnace, it is important to find the right service to repair it. A good repair technician should come with certain credentials and qualities in order for you to have confidence in their work. One thing to look for when choosing a furnace repair service is that they offer a warranty on their labor.
This way, if there are any additional problems down the road, you'll have peace of mind knowing that you can call the same company for assistance without having to pay any extra costs. Furthermore, warranties reflect the quality of work provided and give insight into what level of service expertise you can expect from the technician.
A quality repair technician will have no problem backing their process and supporting their claims by offering a warranty on whatever services they provide.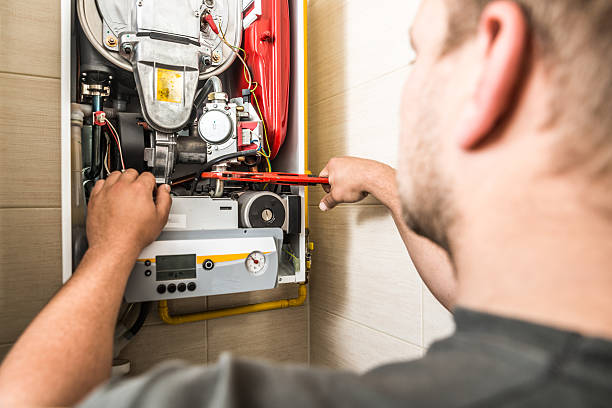 Conclusion
When your furnace breaks down, you need to find a reputable repair service to fix it as soon as possible. Look for a company that is licensed and insured, has good online reviews, and offers a warranty on their work. Get multiple quotes before making a decision so you can be sure you're getting the best value for your money.