While paint and tiles are still the go-to methods of decorating walls and adding colors to them wallpaper has made a very impressive comeback in the past few years. The wallpapers that are available these days are not like the ones that were available a couple of years ago. Apart from the floral prints that people preferred in the 80s and 90s, there are bold colors and patterns that can help you make statement pieces. Wallpaper is affordable and trendy home decor.
There are variations of wallpapers. Permanent wallpapers are a bit time-consuming to apply and take off whereas removable wallpapers are easier to apply and less time-consuming. They have a sticky adhesive at the back that with the help of an expert you can apply on your walls to give the room vibrance. These wallpapers are also budget-friendly and not harsh on the pocket unlike paints that create a mess and are expensive.
Wallpaper efficiency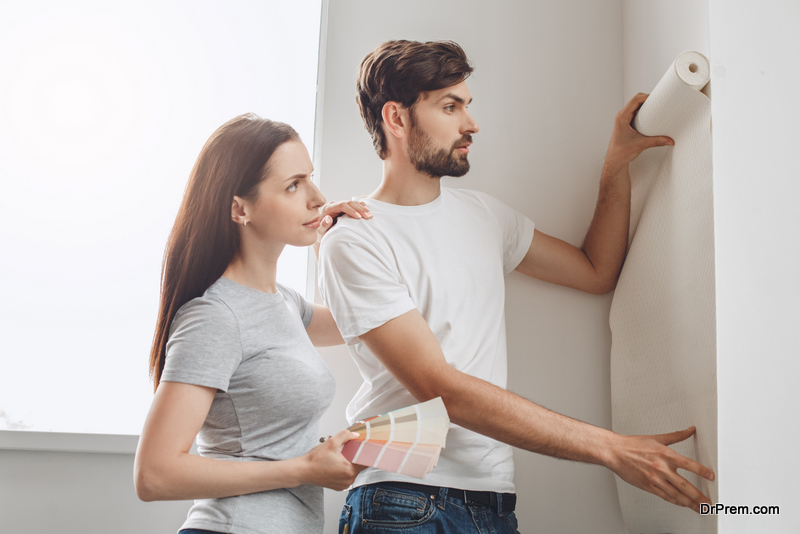 Wallpaper is considered to be an efficient means of decorating your home or apartment. There are so many people that move around that is why rather than choosing a more permanent option for their space they choose something that is more convenient like wallpaper. You have to make your space comfortable and cozy so that you enjoy spending time in it. Wallpaper as a design will never go out of fashion.
Wallpapers are extremely versatile no matter what the style of the home is. There are a lot of ways in which you can use wallpaper, it is extremely suitable for closets and bathrooms. Homeowners always want to achieve and give personality to their houses whether by using bold colors or beautiful pastels and neutrals. Wallpaper can help give the whole room a wow moment.
There are different places in the house in which wallpapers can be used. Some people like decorating their kitchen using different bright wallpaper patterns that is not easily achievable with paint or tiles. Wallpapers are flexible enough to be used even on refrigerators.
Graphic and geometric wallpapers are the latest trend in wallpapers these days and there is a valid reason for that. Graphic wallpapers are funky and make the walls stand out whereas geometric wallpapers can make even the smallest rooms look bigger and brighter.
Floral prints have never gone out of fashion and are trending these days, as well as they, give a sense of calmness and a nice scenic mural scene to the whole room. There are different themes in mural wallpapers as well.
Wallpapers help your inner artist and interior designer to bring out the best in your home. There are tons of places where removable wallpaper can be utilized. While decorating the room of our children rather than going for basic wallpaper there are a variety of peel and stick wallpaper for kids room.
You can never go wrong with wallpaper. A wallpaper breathes life into the room, wallpaper lets you have fun while hiding the imperfections on the walls.
Article Submitted By Community Writer