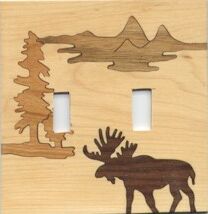 Just sweep off those ugly looking switch boards with the extremely classy and beautiful covers made assortment of hard woods that include maple, walnut, cherry, red oak, white oak, butternut, mahogany.
The wooden covers feature beautiful sceneries that are enough to jazz up those dull switch boards adding a variety to your bedroom.
These switch plates are available at willowcreekwoodshop in a wide variety of designs.