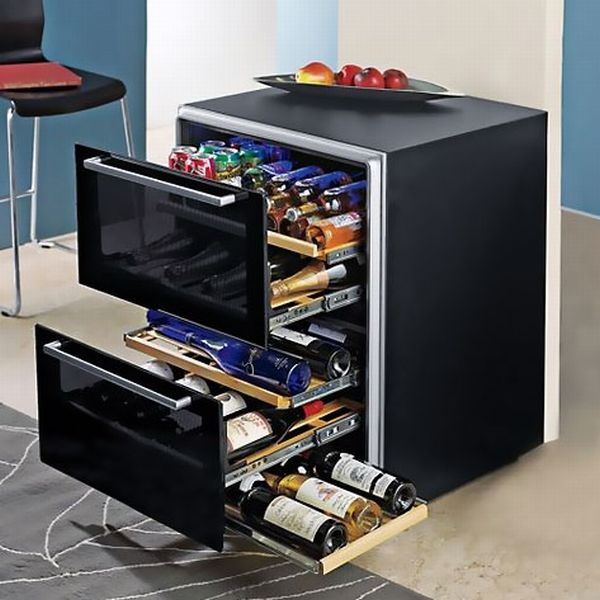 The feeling of gulping down chilled beer after returning home from a hard day's work or while chilling out with friends is simply amazing. Beer lovers will agree to the fact that when it is serve chilled; it tastes the best. The design of the mini fridge is to serve this purpose. There are several kinds of beer fridges available in the market coming from various manufacturers, making it tough for anyone to select the best one. To make things easier for you, we have looked in to some of the best in the business and came out with the following '10 best beer fridge' list.
Space saver beverage and wine cellar

You can use this mini fridge to store beers, wines and spirits. It has a compact design and it features two slide out drawers, which are temperature adjustable. The temperature of one drawer ranges from 40-50°F, while that of other from 50-66°F. The adjustable drawers allow the users to store their red and white wine at their ideal serving temperatures. This fridge has six pull out wine racks, out of which three are removable. This fridge has attractive looks with smoked glass doors. It can hold around 45 bottles of wine.
What's unique: Slide out drawers with adjustable temperature.
Danby 5.2 cu ft Kegerator beer fridge

This beer fridge manufactured by Danby uses environmentally friendly R134A refrigerant. It features highly attractive steel finish and heavy-duty castors. The beer tower dispenser is black/chrome colored. The drip tray is removable and guardrail is also chrome colored. The three wire shelves used in this fridge are removable. The worktop of this free standing fridge with automatic defrost is scratch resistant. This fridge weighs 92.6lbs.
What's unique: Environmentally friendly R134A refrigerant.
U-Line 2175 BEVCSRH beer fridge

This mini fridge can hold 16.75L wine bottles. It has Touch Glass Digital Control and a black interior. The capacity of this fridge with stainless steel handle is 5.5 cubic feet. The 6 mm glass shelves used in this fridge can hold up to 129, 12 oz. cans. This fridge can also be used for commercial purposes.
What's unique: Touch Glass Digital Control
ASKO refrigerator – HomePub fridge freezer

If you are a party freak, the Asko HomePub refrigerator/freezer with a built-in draught beer system is all what you could have wished for. The Stainless steel Asko has it all, a 301 litres net volume (218 litre fridge, 83 litre freezer) capacity, special shelf for 5-litre beer keg, ice-tray, ice-scraper and much more to party hard.
Manufactured by ASKO, the door of this fridge features a new system, allowing the user to take out beer using the tap in the door. This user friendly fridge features an electronic thermostat and an antibacterial treatment to protect the interior of this refrigerator. The beer dispensing tap is fitted in a compartment inside the door.
Specifications
The HomePub, with dimensions- HxWxD: 185 x 59.5 x 60 cm is currently available in Italy, Netherlands, Belgium, Germany and the UK (where it costs around A£450, or $1000) and is yet to see the light in the US soon. It is the perfect party accessory indeed.
What's unique: The beer dispensing tap
Northstar Refrigerator With Built-in Draft Beer System

Manufactured by Northstar, this refrigerator has got a cool look. This refrigerator is available in 3 different models, 1950, 1951, and 1952. The Brew Master draft system used in this fridge includes tap dispenser, which is fitted in the door. Besides this, it features drip tray, coupler and CO2 cylinder too.
What's unique: The Brew Master draft system
Sanyo BC1206 kegerator beer cooler

The capacity of this beer cooler is 6-1/2-cubic-foot and it can hold up to 1/2 keg. Featuring CO2 tap system, pressure gauge and regulator, this beer fridge is one of the best available in market. This fridge has got a well polished black exterior. The dimensions of this fridge are 23-5/8 by 37 by 25 inches.
What's unique: CO2 tap system.
Avantco JBC-25 commercial beer bottle box

This beer bottle box is ideal for commercial purposes as it can hold around 6 1/2 cases of 12 oz. cans. It is a strong and sturdy beer box has got an attractive black polyester-coated exterior made of steel. The top and lids are made of stainless steel. What is even better is that this fridge features a 1/5 HP compressor and uses Eco-friendly R-134a refrigerant.
What's unique: 1/5 HP compressor.
Metalfrio (HBC60) 5.3 undercounter beer cooler

Manufactured by Metalfrio; this beer fridge has a glass door with a steel frame and a black molded plastic interior. At the top there is an LED temperature display for your convenience. You can use the front facing top panel to adjust the temperature. The adjustable temperature range of this fridge is 17F to 46F. This frost free fridge uses CFC free R-134a refrigerant. The leveling feet of this fridge with 5.3 cu ft capacity is adjustable.
What's unique: Adjustable temperature range
BCA31SS beverage center

This fridge with glass door features full-range temperature control; with a stainless steel frame and interior liner. This fridge has 2 removable and adjustable. The dimensions of this fridge are 17 x 32 ½ x 19 inches and it weighs 44 lbs.
What's unique: Stainless steel frame and liner.
Perlick Signature Series HP48RTO

This refrigerator with 12 cubic feet of capacity features two pullout shelves. The self-contained beer system keeps your beer chilled. The drainer is portable. This fridge is available with one, two or three taps. Perlick has used Variable Speed Compressor in this fridge with forced-air refrigeration.
What's unique: Variable Speed Compressor
A few other beer fridge to consider
Since we are looking at the best beer fridge you can choose for your house, here are a few suggestions that you can consider. These fridges have some of the best and latest technology you will find in the market. Moreover, they are small in size and come with various kinds of features to suit your needs.
Fridge inspired by Marshall Amp
At first glance, this may look like one of those many April fool's day gag. But Marshall, is not in the mood to fool around. It's true that they have come up with a product which looks like an Amp but actually, is a very nice and compact fridge with authentic Marshall logo to store your beer and wine this summer. The price of this master fridge is $299.
What's Unique?
Its biggest USP is its amp inspired looks. Marshall Fridge sports timeless guitar amplifiers measuring 4.4 cubic foot, instead of the regular stainless steel make. When fully stacked with your favorite alcoholic drink, it surely can increase the cool-factor of any room automatically by around 600 per cent.
High Points
It's an awesome addition to an audiophile's home. Its mere presence will pep up any monotonous corner.
It's compact size makes it easy to carry along with you anywhere you want.
Ice-Cold Beer Dispenser
Nothing like an ice-cold beer to relax with after a hard day's work, isn't it? The SkyMall Beer Dispenser does away with the tiresome and messy routine of storing canned or bottled beer in the fridge (where the missus can keep a stern eye on your stash as well!) easy to clean with sleek and handsome modern looks, the dispenser easily fits anywhere in the house and holds upto 5 liters of beverage chilled through a party, and guys' night in. Since it works with all standard 5-litre mini-kegs, it switches effortlessly between root beer and cream soda! The 19 3/4″H x 11 2/3″W x 11 2/3″D beer dispenser is sure to become one of your best friends in no time.