The most instant energizer that you look for the first thing in the morning is probably a cup of steaming hot coffee. All your sleepiness and drowsiness seems to fly away as soon as you smell the rich aroma of coffee. It is not only morning, coffee is the most favorite drink of majority of the people, which they love to have throughout the day. It is said that with each sip of coffee the body experiences a kick of the caffeine that acts as a catalyst to rejuvenate the nerves instantly and make them refreshed all over again. But those, who are ardent fans of coffee never find the right taste and aroma in the instant coffee that are sold in the stores all over the world. But at the same time, sourcing coffee beans and grinding them every time to have a cup made for yourself is quite bothersome. You might only wish how fascinating it would have been if you had someone around who would love to grind coffee and treat you with a steaming cup when you really wanted one. The coffee machines from Krups have the solution for you. You can sit in your drawing room after a hard day's work or get up from your bed leisurely and turn on your machine. The rest will be taken care of by the equipment and you will be rewarded with a hot cup of coffee with the aroma and the taste you have been looking for so long. Have a look at fabulous such coffee machines by Krups, the German company.

1. Krups Compact Espresseria Automatic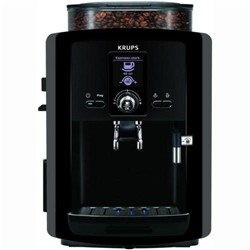 This is the all in one machine for those who love to have espresso at times while cappuccino at other times. A ultra compact gadget for your kitchen, this is easily operable and beans can be put inside it easily to grind them and make your favorite cup for the day. You can also enjoy other delicacies like Latte, Hot Chocolate or Long Coffee by the press of a button, which will take you to a different mode every time.
Technical Specification
1. Espresso and Cappuccino maker
2. Touch button
3. Ultra compact, easy to use bean to cup system
4. Multi setting conical burr grinder
5. 15 bar high pressure pump
6. Krups Thermoblock technology for high speed, perfect temperature, fresh water
7. Descaling
8. Sealed transparent coffee bean hopper
9. Auto ejection of coffee grounds
10. Auto-cappuccino steaming arm with stainless steel milk container
11. Programmable LCD graphic display control panel
12. Automatic rinsing, cleaning and de-scaling program
13. Claris water filtration system
14. Easy to use touch and turn dial
15. Transparent 1.8 liter removable water tank with carry handle
16. 3 adjustable water temperature levels
17. Adjustable coffee dispenser and interchangeable nozzles
18. Cup warming tray
19. Removable drip tray with overflow indicator
20. Auto on/off
USP
It has fifteen bar pressure pump inside it that is responsible for an although uniform taste. You can also store as much as two hundred and eighty grams of coffee beans in it to be used in your convenience. There are technologies inside this machine that ensure fresh water for every cup of coffee it makes and with considerably reduced scaling. The leftover portion of the coffee beans are expelled out of the machine through auto ejection system. All these features make it stand apart.
PROS
The LCD display helps in keeping a track of the programme that is going on in the machine. It also has automatic cleansing, rinsing and descaling programme.
2. Krups KM7000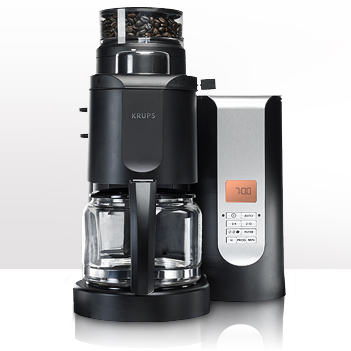 This coffee machine is also the perfect choice for a big family. You can experiment with the strength of the coffee you want out of this device, with the three levels of grinding options. The controllable coffee-water ratio makes the process even easier.
Technical Specification
1. Conical Burr grinder with automatic functions
2. Back-lighted LCD with clock and programmable timer
3. 2, 4, 6, 8, or 10-cup digital settings that control the coffee-water ratio
4. Aroma function for 2-4 cups for proper brewing of small coffee quantities
5. Anti-drip valve with Pause and Serve
6. Water Filtration (472-00 Duo filter)
7. 950 watts power
8. Dimensions: (L x W x H) 11.5″ x 11.12″ x 15.5″
9. Weight: 8.5 lbs
USP
Among the most important features of this coffee machine, the LCD display and the clock with the user based programming options make it very unique. The internal technology obstructs the blockage of the coffee channel by steam. It has dual filter and runs on 950W of power.
PROS
The digital settings that can customise the constituency of the brew is really notable as it will serve the need of different people with different blends of coffee.
3. Krups KM1000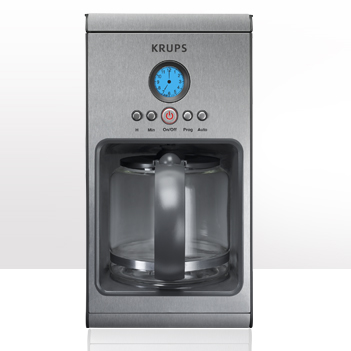 This coffee machine will be a great help for you if you have a big family. It can serve coffee to ten people simultaneously. The stainless steel body is indeed attractive. The LCD display, programmable memory, all of it makes it an extremely useful, hi tech product for the most futuristic kitchen.
Technical Specification
1. 900 watt powerful heating element
2. Illuminated blue LCD analog style clock
3. Programmable clock to set the daily start time with auto-off
4. Pause and serve features
5. Removable filter basket for easy cleaning.
6. Translucent water tank with dual water level windows.
7. Dimensions: L:9″x W:8.1″x H:12.8″
8. Weight: 5.25 lbs.
USP
The stainless steel exterior surface, with graphite detailing is the aesthetic appeal of this coffee machine. It runs on 900 watts of electricity and has an auto on/off facility that can stay up to four hours. You can even set the timer of this machine so that you get your cuppa just at the time you want it everyday. You can also remove the coffee crate anytime you want it, within the brewing cycle, with the easy pause and serve switch. The translucent water tank and the removable filter basket are other important features.
brewing cycle, with the easy pause and serve switch. The translucent water tank and the removable filter basket are other important features of the same.
PROS
The transparent water tank makes it easier to understand when you need to refill it again. The stainless steel body makes it extremely durable.
4. Krups FMF5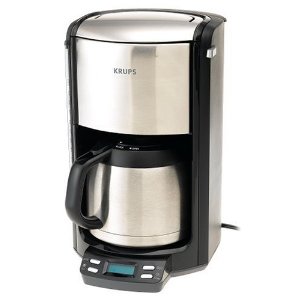 A great product for a small gathering, this automatic coffee machine from Krups is beautiful to look at and at the same time is convenient to use due to the no drip spout and programmable LCD display screen. Enjoy as many as ten brewed coffee cups at a time with this unique gadget.
Technical Specification
1. Fully programmable
2. 1100-watt power
3. LCD display; clock/timer; 1- to 3-cup aroma switch
4. Thermal stainless-steel vacuum carafe with no-drip spout
5. 60-ounce water reservoir; built-in water filter; electronic de-scaling indicator
7. Auto shut-off: Yes
8. Pause-and-serve function: Yes
9. Dimension 13-3/4 inches x 8-1/2 inches x10-1/2 inches
10. Weight approximately 7 lbs
USP
The built in filter gives you the freedom to fetch yourself a cup while the brewing process is on. There is no hassle of things being over done or underdone due to auto on/off technology. Other important features that make the product stand out are its rich black color with steel detailing, ten cups capacity, 60 oz water reservoir, etc.
PROS
The removable brew cup makes the device convenient to use. Steel body ensures no rust throughout ages.
5. Krups Compact Espresseria Automatic Bean To Cup Coffee Machine – EA8080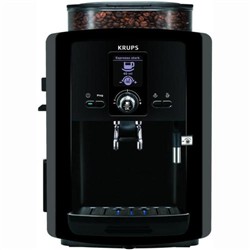 The jet black color of this coffee machine will add a glamor to your highly sophisticated kitchen shelf. It has a really faster application and you only need to wait for a minute or two to get two cups of rich, grounded coffee. The automatic on/off technology makes it convenient to use and it works on a power of 1450 w.
Technical Specification
Power of 1450W
Removable water tank
280g hermetically sealed transparent coffee bean hopper
Auto ejection of coffee grounds
Auto-cappuccino steaming arm/SS milk container
Programmable LCD graphic display control panel
Automatic rinsing, cleaning and de-scaling program
Auto on/off
Claris water filtration
Easy to use touch and turn dial
Produces 14 cups of coffee without re-filling
Interchangeable nozzles
3 adjustable water temperature levels
Adjustable coffee dispenser
1.8 L water tank
Pump pressure of 15 bars
USP
The machine has a coffee bean hopper inside it that can store up to two hundred and eighty grams of coffee beans at a time. It also has a removable water tank. The auto ejection of the coffee bean particulates make it a zero maintenance equipment. This is further made better by auto cleaning, descaling and rinsing technology. The LCD display panel also lets you know about the program that is running currently or what you have set. A separate attachment, comprising of a stainless steel milk container and steaming arm is there for making Cappuccino.
PROS
The operation buttons of the device are easy to touch and control. It can make as many as fourteen cups of coffee in a single go, without the need for refilling the beans. Hence, it is perfect for a small party or a family gathering.
6. Krups FME4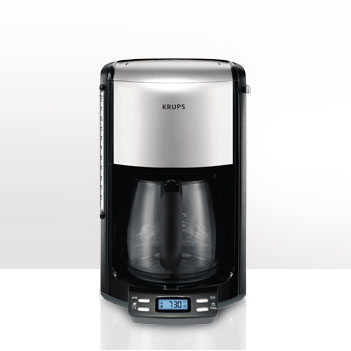 This coffee machine is capable of making coffee for twelve people at a time. What can be more better than a friend's gathering over a coffee? It works quietly and signals with a beep when it is through with its work. Just remove the brew basket and have your cup of coffee.
Technical Specification
1. 1,100 watts
2. Color: black and metal
3. Electronic descaling indicator Programmable timer/auto on sets the start time each day
4. Easy to pour 12-cup glass carafe with no-drip formula and ergonomic handle design
5. Pause-to-serve feature Aroma switch to fully extract flavor from small quantities of coffee
6. LED control panel
7. Audible signal
8. Adjustable time heating plate from
9. Magnified water level indicator
10. Built-in water filtration system
11. Soft eject filter holder
USP
The metallic finish is extremely durable as the company claims. The finger loop with the brew basket makes it conveniently removable without any mess on the kitchen counter. The cone filter leaves an option for fetching a cup of coffee while the machine is brewing coffee. Some of the other extended features are programmable buttons, exposed water tank to check the level of water, LCD display, electronically monitored heating element, clock and self timer.
PROS
Nice and slim design is the most important attraction of the product that suits any kitchen decor.
7. Krups Nescafé Dolce Gusto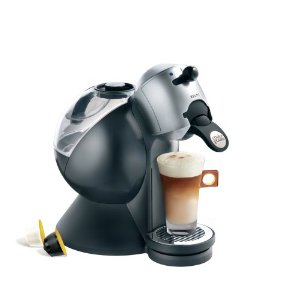 The makers of this coffee machine believe that every cup of coffee made must be rich in its aroma, taste and quality. Therefore, this coffee machine has been equipped with functions that lead to the making of pristine coffee every time. Moreover, the hassles and mess that you come across in traditional coffee makers is not here at all and the aesthetic appearance of the machine is also quite amazing.
Technical Specification
Choose from 7 great drinks
14 Bar pressure pump
Easy to use and clean
Unique Krups Thermoblock technology heats water as required
Adjustable stainless steel drip tray
1.3L removable water tank
2 years guarantee
USP
This machine features separate buttons that gives you the perfect flavor and type of coffee you want every time. This is possible due to the presence of a technology that works behind the scene to exert the right pressure needed every time for the Espresso or the Latte or the Cappuccino, whatever you want.
PROS
It is most in demand due to its compact shape and less space utilization in your kitchen shelf.
8. Krups Nespresso Le Cube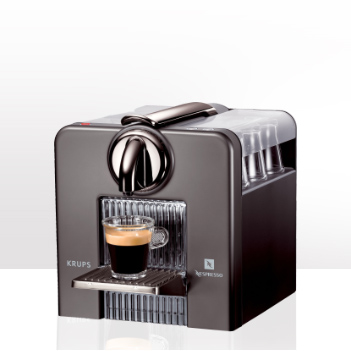 This shiny chrome coffee machine will look like a cube in your kitchen shelf. The cup holders of this machine are quite compact and chances of slippage is reduced considerably. The aroma and quality of the coffee beans are kept intact by the hermetically sealed technology and the accurate positioning of the portioned capsules.
Technical Specification
1. Thermoblock technology with 19-bar pump
2. Nespresso system having hermetically sealed, perfectly portioned capsules Espresso & Lungo buttons with programming function
3. Compact cup holders on either side of the machine
4. Holding drip tray
5. Solid Aluminum front panel with Titan finish
6. Shiny Chrome Coffee Outlet, lever and drip grid
7. Automatic capsule ejection that holds up to 15 capsules
8. Back-lit on/off and espresso brewing buttons
9. Removable 1 L water tank
USP
This coffee machine has an aluminum front panel with titan finish, which is extremely durable and rust resistant. The coffee bean capsule ejection cell can accommodates as many as fifteen capsules at a time. It also comprises of a folding tray so that the work is done without mess in your kitchen and it gets folded back as soon as the coffee is finally poured into the cup. It has a capacity to accommodate one liter of water in its water tank at a time, so that fresh water is ensured every time you have a cup of coffee. Every time the water tank is emptied the tank can be removed.
PROS
The separate buttons with their associated functions make it easily operable. The backlight display also prompts what is going on inside.
9. Krups Espresseria XP9000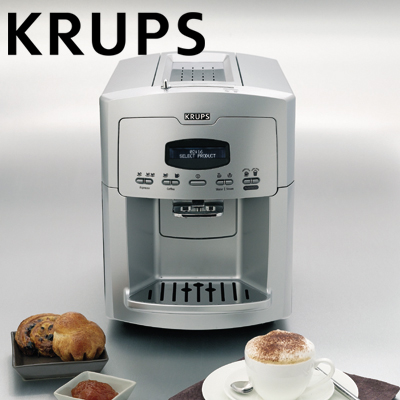 If the ear splitting sound of coffee machine is what bothers you the most, then look no further and get yourself the Krups Espresseria XP9000, which is known for its soundless operations. It has a power of 1300W and is in dimension of 29 cm width x 44 cm dimension x 37 cm height. The aesthetic quality of the product is something that will tempt you. The ultra modern look of the gadget is rendered by the brushed silver color that is rimmed with black detailing.
Technical Specification
1. Power of 1300 watt
2. Quiet functions
3. Cleaning kit
4. Removal water tank
5. Descaling kit
6. Auto on/off
USP
This coffee machine is characteristic in featuring an automatic motor that grinds the coffee beans with the turn of a switch. It has two descaling kits and two cleaning tablets that makes its maintenance easier. The filter cartridge effectively stains out your coffee so that you finally get a clear cup of Espresso or Cappuccino and the particulates are left behind. It is also equipped with a water hardness remover.
PROS
The company offers a 24 months warranty on the product. The hassle of cleaning it is also not there as the whole process is done automatically.
10. Krups KM4065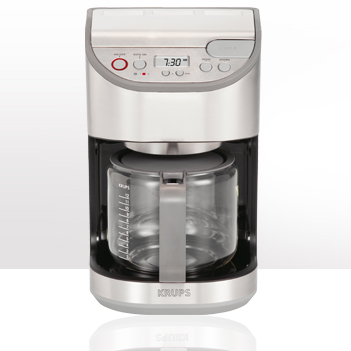 Along with the user controlled buttons, this machine has a brushed steel appearance. The design of this machine is such that it makes the serving of coffee easier. You will get the exact flavor of every bean that is brewed in this machine
Technical Specification
12-cup glass carafe
1,100 watt powerful heating element
Easy access control panel with LCD screen
Oversized shower head
Programmable clock to set the daily start time with auto-off and dual auto-on
Auto shut down water reservoir detection unit
Duo Filter water filtration system
Dimensions: L:9″x W:8.1″x H:12.8″
Weight: 5.25 lbs
USP
Together with the basic features of a coffee machine, this device has an oversize shower head and dual filter that are essential in keeping the flavor of the coffee beans intact. The easy to handle soft lid and the lift out brew basket makes it convenient to use. The timer, built in water filter and the auto shut off technology makes the gadget further impressive.
PROS
You will hardly face any problem in using the brew cup connected to the machine due to its unique design.