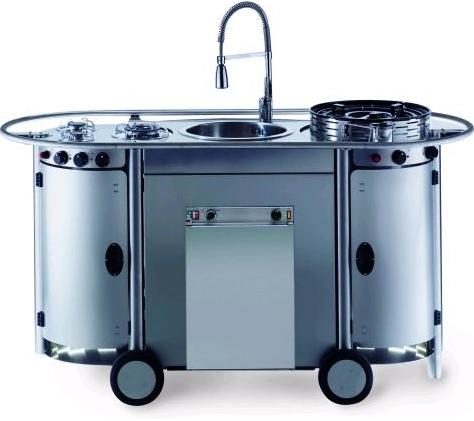 Kitchen is the most pivotal aspect of our homes. And with space management increasingly becoming a concern with the home decor, portable and compact kitchen options are anytime welcomed. The portable kitchen have immense utility and can be used in multiple ways. Not only does it allows you to have better storage but also gives an option of mobility according to your needs. This is very useful during parties as it also gives you a counter space. Available in arrays of designs and styles, portable kitchens are fast catching up as an optional solution for all the storage and mobility related issues in a commonly used kitchen. Here are some designs which can help you to choose a perfect portable kitchen to suit your need and style.
1. Mini Kitchen by Joongho Choi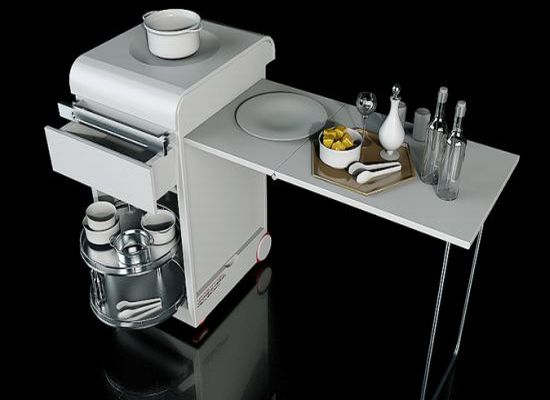 Compact and portable kitchens are a must in small apartment to create enough space. Joongho Choi has come up with a unique design of portable kitchen which not only serves as a storage idea but also acts a dining table when needed. Stunningly designed, this smart kitchen looks like a simple box which easily incorporates a removable tray and a kitchen rack to store necessary cutlery. A perfect option for people living single and smart !!
2. B Kitchen Drawer by Nojae Park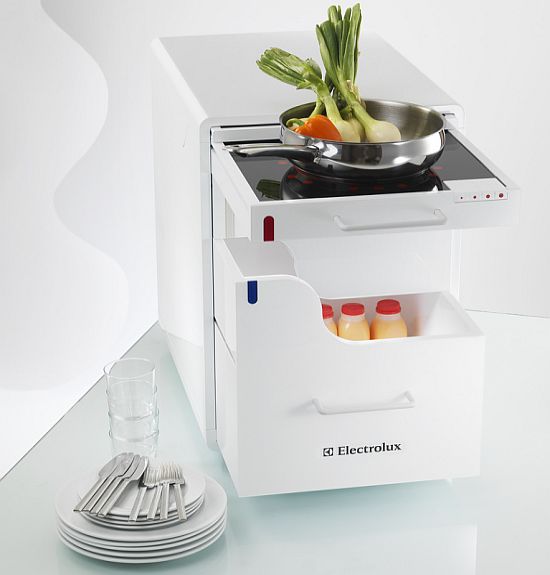 Sometimes impossible becomes possible. And that is what we call innovation. Designer Nojae Park exactly choose to do so. Make a sweet and small kitchen- The Kitchen Drawer. With space becoming a thing of pas,t small portable kitchen are the next in thing in the market. And if the kitchen is smart enough to move around, it is sure to catch the eyes. The Kitchen Drawer has a warming plate along with a electric stove. And the best part is, it also has a dishwasher and a mini fridge. Is there anything else we need in a kitchen ?
3.Unite Portable Kitchens by Martin Newland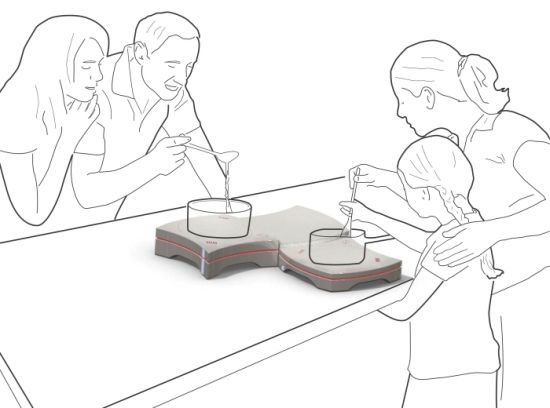 How interesting it would be if we can cook and dine at the same place together with family and friends. Martin Newlandhas has come up with this interesting concept called UNITE– an induction hob that allows you to cook and dine at the same place and time. A perfect option for the family to spend time together over an interesting session of cooking and dining. Well, the name UNITE justifies the product by all means !!
4.Magdalena Gravity Frame Kitchen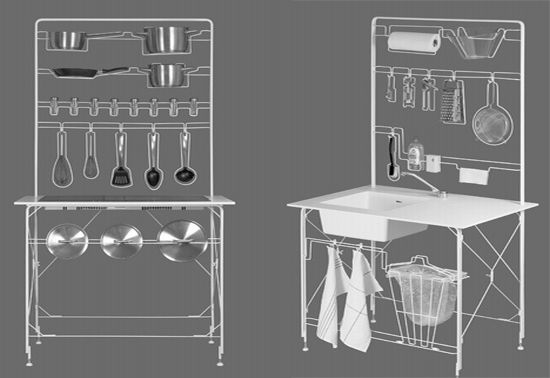 Another small and smart kitchen for all those dwelling in small apartments. Burkhard Schaller's Magdalena Gravity is one stop solution to problem of spacious kitchen in small apartments. Made up of small removable racks to allow you to keep your kitchen utensils as needed. With a unique designed of wire frame, this small yet smart kitchen can be placed either against the wall or left free standing in more open space.
5.Temp Kitchen by Dwyer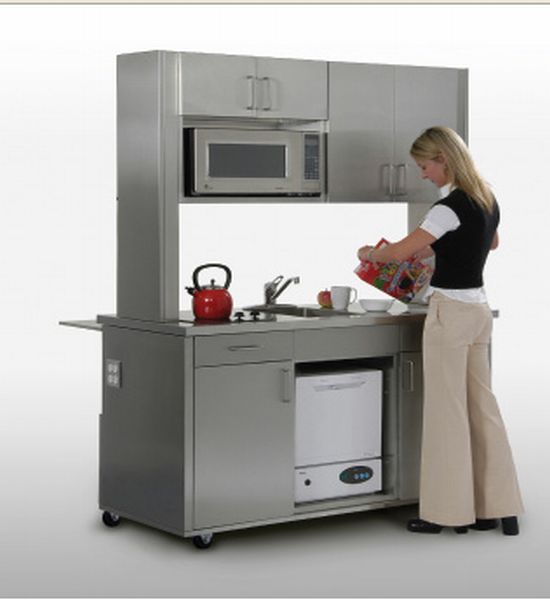 Temp Kitchen by Dwyer very successfully solves the issues of space management in urban apartments. With a perfect mobility, this kitchen can be moved from one room to another, giving ample space to work on. A fully functional kitchen , it is equipped with stainless steel unit fitted with two burners. A dish water and a sink to take care of the cleaning. Along with this comes a place for storing utensils and also a microwave. The smart part of this portable kitchen is its electronic management. Fitted with electric board, it requires 15 amp circuit for operation.
6.Contemporary portable kitchen island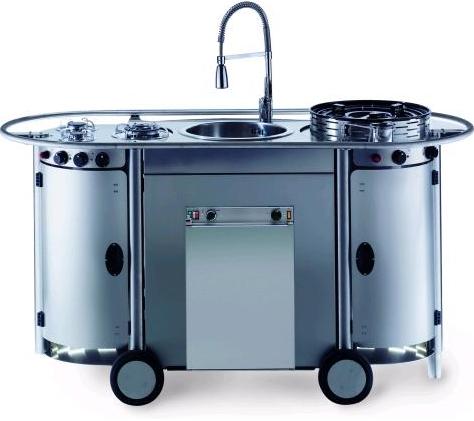 Bongos portable kitchen by Emme is yet another smart option for people who live in small apartment but want to enjoy life king size. Bongos portable kitchen allows you to do everything you would do in a conventional kitchen. And to add, the mobility attached to this kitchen allows you to express your culinary skills without any hindrance. Bongo's kitchen can finely accommodate itself in and around your living space or if needed even in your garden. It gives you a whole range of options to choose from. This contemporary kitchen can be customized with personal accessories and contains a sink, burner, and adequate storage facility. Designed to make it more user friendly, this kitchen can also be used as a drink cart or a single burner trolley unit.
7. Kitchen-in-a-box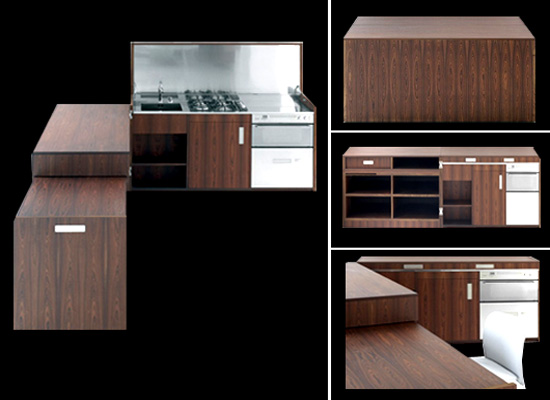 Use the kitchen when you need to cook and then pack it in a box. How interesting is it not? Piero Esposito of Targa Italia has come with a innovative kitchen that works exactly like a box. Very handy when it comes to transporting it from one place to another, this beautiful wooden kitchen is a definite eye catcher. Hiding behind two wooden boxes this portable kitchen has stainless steal elements and has ample storage space making it extremely user friendly.
8.The Field Kitchen by Kanz Outdoors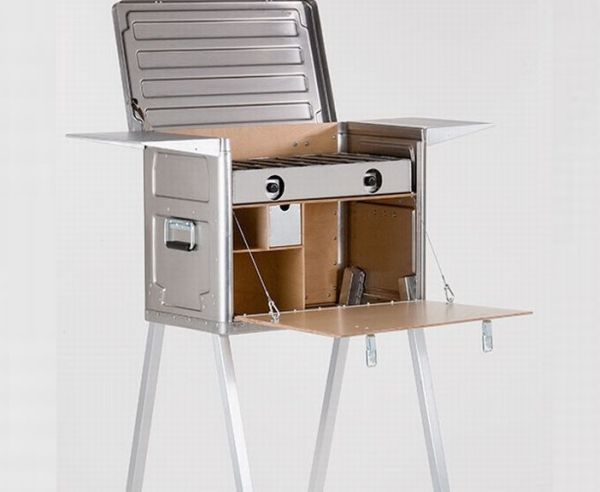 The Field Kitchen is another innovative portable kitchen available in the market. Very suitable for travelers and military operation, this portable kitchen is particularly useful for people who are constantly on move. Made with aluminum , Field kitchen can be easily carried in a SUV or a truck. With a hardy and stable structure this table has enough storage to even carry food items along. You can use the kitchen for multiple purposes including a multi shelves pantry and a serving tray.
9. Folding Kitchen Island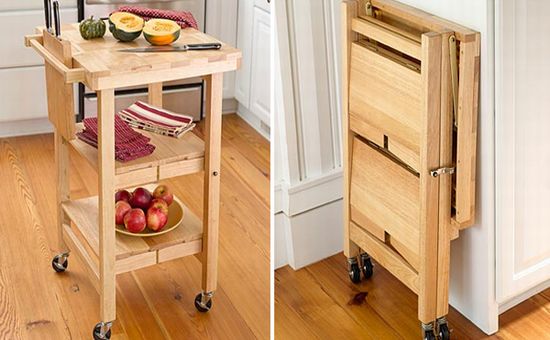 This foldable and portable kitchen concept is extremely versatile and makes a great choice for those living in small apartments. With ample storage space with two feet space to use as a work space and an additional counter top, this kitchen island is a sure to make a place in small dwellings.
10. Robert Lange's Concept Kitchen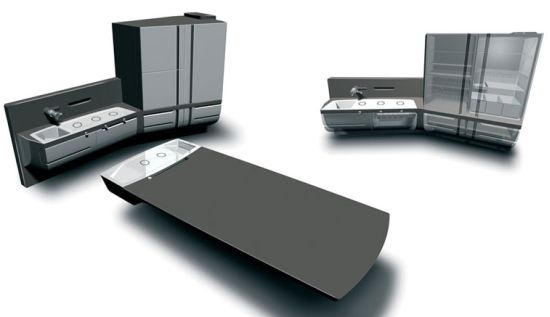 With socializing being the modern day buzz, Robert Lange's Kitchen Concept helps you realize exactly that. With flats being shared by multiple people, cooking in two different cooking fields is also fast catching up. These types of portable kitchens give you ample space for fridge and drawers, the stove and sink has a ceramic finish. For hassle free cleaning, the sinlk and stove are attached.
A final note on portable kitchens
Today the element of space has become a question mark because of the increasing demands of apartments and small sized homes. For people living in studio apartments, the concept of portable kitchens come as a ray of hope. At the end of the day, we as homeowners want to have a fully functional kitchen that will suit our needs in every way. The kitchen ideas that are mentioned above will help you to plan your kitchen just the way you want to.